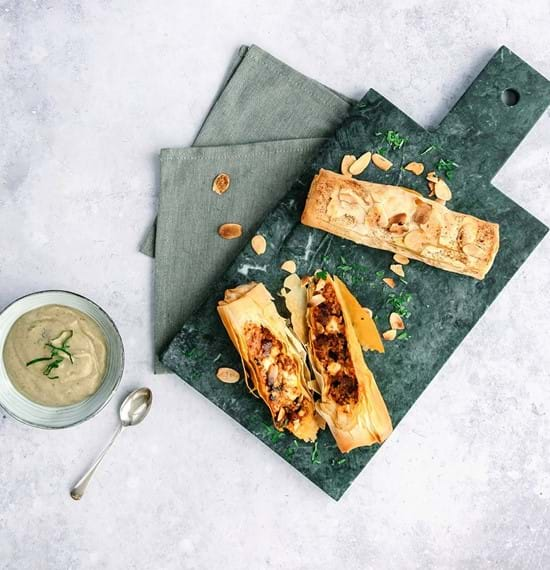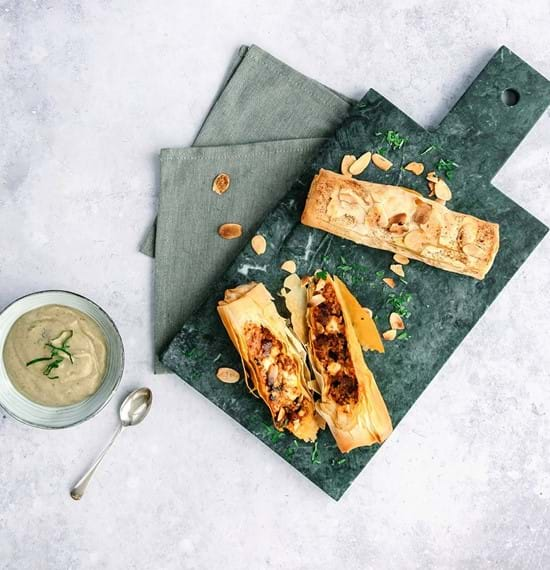 Lamb Filo Parcels with Aubergine Dip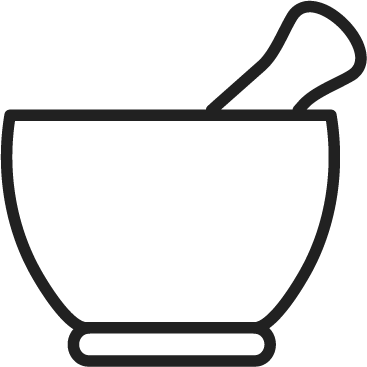 prep time
30 mins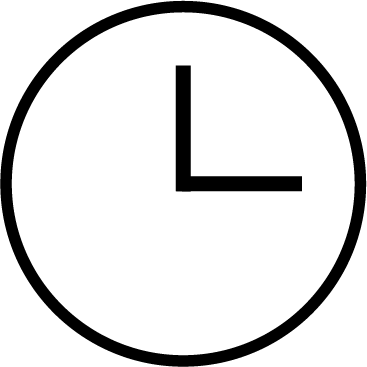 cook time
50 minutes serves
4 people
Ingredients
For the lamb mince filling

250g lean lamb mince

1 tablespoon rapeseed oil

2 onions, peeled and finely chopped

2 teaspoons ras el hanout seasoning

4 teaspoons tomato purée

1 x 400g can chopped tomatoes

100g dried plain couscous

100g baby spinach leaves

40g sultanas or raisins

100g feta cheese, crumbled

Small bunch freshly chopped parsley

For the aubergine dip:

1 medium aubergine

1 tablespoon rapeseed oil

100g low fat yogurt

Small handful roughly chopped fresh mint leaves

For the filo pastry:

8 sheets of filo pastry

25g butter, melted

Pinch of ground cinnamon

30g flaked almonds
Method
For the aubergine dip, preheat the oven to 200°C, 180°C Fan, Gas Mark 6.
Cut the aubergine in half, season and drizzle with oil, wrap in foil and bake in the oven for 30 minutes.
For the lamb mince filling, heat the oil in a non-stick heavy bottomed pan, fry the onion for a few minutes until soft but not coloured. Add the ras al hanout or Moroccan seasoning and cool for 1 minute, stirring gently.
Add the lamb mince and cook for 5 minutes until brown, stirring occasionally. Add the tomato 

purée and cook for a further minute. Add the chopped tomatoes, stir, reduce the heat and simmer for 20 minutes. 

Add the couscous, spinach and sultanas or raisins. Mix well and remove from the heat. Cover and allow to stand for 6 minutes to allow the couscous to swell.

Fluff the mixture up using a fork and fold in the feta cheese. Season, add the parsley, mix and set aside.

Remove the aubergine from the oven and foil, cool slightly and scoop out the flesh with a large spoon. Transfer to a preheated frying pan and cook for 5 minutes, stirring occasionally until the excess moisture has evaporated. 

Blitz the aubergine flesh in a blender with the yogurt and herbs. Season to taste, transfer to a bowl, cover and refrigerate until required. 

For the parcels, lay a filo pastry sheet on a chopping board with the short side nearest to you and brush with the melted butter. Cover the remaining filo pastry with a damp tea towel to keep moist.

Place 110g of the cooled filling onto the pastry, fold over and seal the edges well with the butter. Repeat with the remaining mixture using a new sheet of filo pastry for each parcel. To finish, you should have 8 parcels.

Place each parcel on a non-stick baking tray and brush the tops with the remaining melted butter.

Sprinkle the ground cinnamon and flaked almonds over the top of each parcel. Bake at 180°C, 160°C Fan, Gas Mark 4 for 15 minutes or until the pastry is crisp and golden

Serve the parcels with the dip. 
Tips:
If you want to make 16 parcels to serve 8 people, double the ingredients and use a 500g pack of lamb mince.
Recipes you may also like