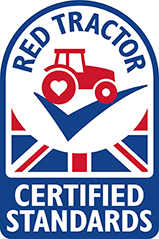 .
About Red Tractor
Red Tractor are the champions of British food, farming and consumer safety and the largest UK food standards scheme. 46,000 Red Tractor farmers, as well as over 800 food producers and processors, work to their world-leading standards. They put food and drink on the shelves of the UK's largest retailers and supply some of the UK's best-known pub and restaurant chains.
Red Tractor food is traceable, safe and farmed with care because independent inspectors check every step of the food journey from farm to pack. That's 60,000 checks, each year, all in one place. Which makes life simpler for everyone. Inspections are only carried out by independent companies to ensure they are completely impartial.
Find out more on the Red Tractor website. 
Q. What is the main benefit of the scheme?
Red Tractor have some of the most comprehensive farm and food standards in the world, covering more types of food and drink than any other assurance scheme.
This means that everything carrying the Red Tractor logo can be traced from pack back to British farms. Food with the Red Tractor logo on has been safely produced for you and your family to eat. It's been responsibly sourced and it comes from crops and animals that have been well cared for.
Red Tractor's approach to its standards are based on four key principles:
1. Animal welfare
When you see the Red Tractor logo you can be confident your food and drink has been produced to rigorous standards and with great care and attention. That's because Red Tractor have partnered with animal welfare experts and vets since 2000 to continuously strengthen their requirements on animal welfare. Together they work to ensure that the animals are healthy with the right living space, food and water. Their members include award-winning farmers who share their priorities to strive for the very best in animal health and well-being.
2. Environmental protection
A Red Tractor farmer's land is their office and very often their home. They care about looking after the British countryside they love as much as we do. Fertilisers and pesticides are only used when absolutely necessary to keep crops healthy using methods that reduce the risks to wildlife and the environment wherever possible.
3. Food safety
Red Tractor insist on rigorous production standards from farm to pack. They don't allow growth hormones. They don't allow irresponsible use of animal medicines and antibiotics. Chlorine washed meat and poultry do not meet our Certified Standards. Only good quality, British food at its seasonal best carries the Red Tractor logo.
4. Traceability
The Union Jack on the Red Tractor logo confirms your food has been produced entirely in the UK, with every step of the food journey checked and documented from farm to pack. All food and drink can be traced right back through the supply chain to British farms.
Q Where will I be able to find/buy meat carrying the Red Tractor label?
All the major UK supermarkets use Red Tractor standards as the basis for their UK sourced food. Most display the logo to confirm product credentials with their customers.
Red Tractor are also used by a number of leading UK brands and restaurants, including Weetabix, Shredded Wheat, Silver Spoon Sugar, Wyke Farm Cheese, Nandos, KFC, Harvester and Toby Inn restaurants.
Q Will buying food and drink carrying the Red Tractor label help our farmers?
By choosing products with the Red Tractor label you are helping to support British farmers who work hard every day to produce quality food and drink that conforms to good standards. Your support helps not only the farmer and farm workers, but everyone involved in the Red Tractor supply chain.