Batch Cooking
Cook once, eat twice (or even three times) by batch cooking one of our delicious recipes below. They're ideal for a busy schedule or keeping an eye on the pennies!
Whether you're looking for batch cooking for families or just for yourself, it's a great way to reduce food waste and save money while still eating well all week.
Keep scrolling for more of our favourite recipes that are perfect for batch cooking as well as our best freezing and defrosting tips.
How to freeze meals
When batch cooking meals, the freezer is an invaluable resource and will quickly become your best friend. By using your freezer space wisely, you can fill it with prepped dishes saving you time and effort for hassle-free delicious meal options.
For a well-stocked freezer with prepped meals at your finger-tips, follow our house rules on successful batch freezing.
The golden rule is to freeze prepared meals quickly - ideally once they're cooled, but within 90 minutes of serving. At this stage, there are plenty of container options to use, such as rigid, freezable, airtight containers with matching lids, foil trays with cardboard lids, as well as freezer-to-microwave dishes.
Batch-freeze in different serving sizes (family portions vs. single portion).
If you intend to batch cook regularly, stock up on plastic or reusable freezer bags (perfect as they take up less space in the freezer), freezable tubs and lids.
Always label your batch meals before freezing. It is much easier to find in the freezer when you want it. This is essential for batch cooking on a budget, as you don't want to waste batched meals.
Simply cover the top of the cooled content with foil or two layers of cling film, label and pop in the freezer. Freezer proof dishes are great as well, and you don't need a lid.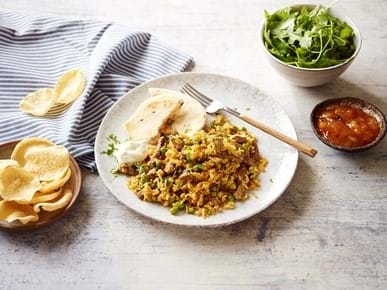 How to defrost meals
Get ahead and defrost batch meals in the fridge overnight, and use within 24 hours. Depending on your dish, transfer to a suitable container and either reheat in the microwave or cover in foil and either pop in a moderate oven or transfer to a saucepan and reheat until piping hot throughout.
Never re-freeze previously defrosted batch meals. 


Beef freezer friendly meals
Lamb freezer friendly meals