Great British Beef Week: a focus on sustainability
Always circled on the Simply calendar is an annual national foodie week: Great British Beef Week (GBBW).  Organised by Ladies in Beef, GBBW is an opportunity to champion one of our favourite ingredients and the work of British beef farmers.
This year GBBW – which runs from the 23rd - 30th April – is 'going green' as it focuses on recognising and highlighting British beef farmers and the work they do to support sustainable practices on their farms.  It is down to the strides being taken by British farmers in this area that means beef from Britain continues to maintain its position as being amongst the most sustainable in the world.



Why is sustainability so important?
Jilly Greed, who co-founded Ladies in Beef, explains more:
"Great British Beef Week enables us to shine a light on all aspects of the beef production process. Our farmers are passionate about the beef they produce and are committed to delivering high-quality red meat for consumers to continue to enjoy.   
"Managing land in a sustainable way is a fundamental responsibility of the modern-day farmer.  This includes farming regeneratively, improving grasslands and paddock grazing, planting trees, maintaining wildflowers for the bee population, or harvesting and giving cattle rainwater to drink. British beef production boasts a carbon footprint of just less than half the global average, and reflects the hugely important and positive work our farmers are putting in day-by-day.  It's vital that we keep bringing attention to the ways our producers are respecting the land, whilst also producing the foods we enjoy eating."



Want to know more?

During GBBW you can find out more on social media with #GBBW21. Beef farmers, food and farming organisations will be joining in the conversations and sharing their stories about the importance of sustainability and what it means to them. Join in with your comments and questions – they'd love to hear from you
Chefs, farmers and foodies alike will be sharing their favourite beef recipes using #GBBW21 too



Join in with Great British Beef Week this April
We're joining in with showcasing some of our heart-warming recipes that we think you'll be tempted by.  We hope you enjoy.



Friday night fakeaway
Thin cut steaks can come from a variety of cuts and are butchered to be around 5-7mm thick. They only take 2-3 minutes to cook on each side and are an ideal choice for quick meals like stir-fries, fajitas and salads.   Our Speedy Beef Curry, Teriyaki Thin Cut Stir-fry and Beef Fajitas with Sweetcorn Salsa are great choices for an alternative to the Friday night takeaway.
Roast beef for Sundays and mid-week
If you're after a Sunday lunch with all the trimmings is there much better than a beef roast? We've got lots of flavoursome roast beef recipes like the springtime feel of our Citrus Sesame Roast Beef.  We've also got tasty mini-roast recipes, ideal for a mid-week meal for 2-3 people, including this simple Beef Mini Roast with a Spice Rub. Plus if you're after some top tips we've put together a handy guide covering everything from beef cuts to cooking and carving.
Sunny BBQ days
If you fancy making your own burgers from mince then you need look no further than our Ultimate Beef Burger recipe.  A succulent, tasty burger that is really easy to make.


Comforting beef dinner classics
Beef shin might not be your first go-to beef cut, but this well flavoured cut from the leg (sold both bone-in and boneless) shouldn't be overlooked.  It gives a beautiful rich beef flavour to casseroles and is another cut thta benefits from being cooked slowly.  That's why it's our cut of choice for comforting beef classics like our Beef, Beer and Chestnut Pot Pies.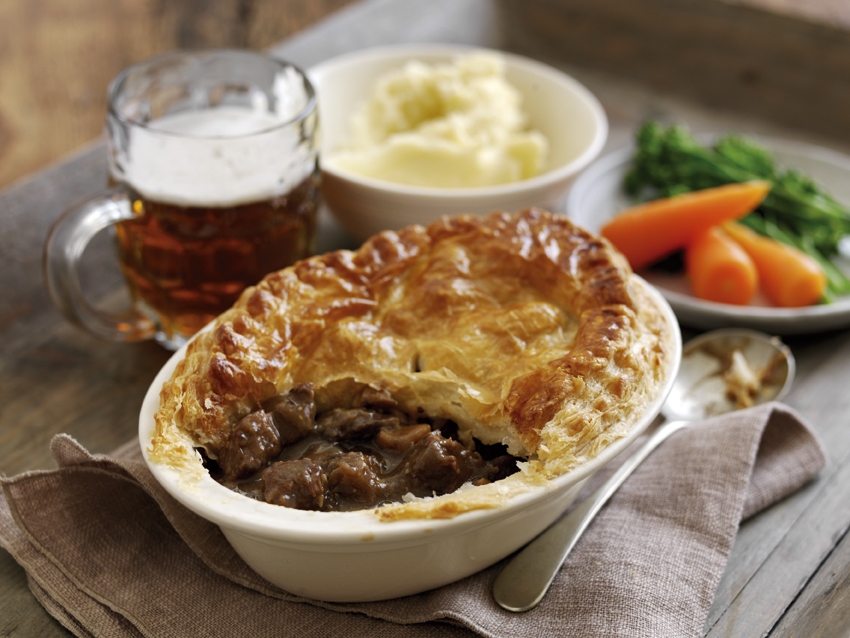 Discover Great Beef Recipes
To celebrate at home, all you really need to do is dig into some quality beef. For inspiration, discover our full list of great beef recipes and give our social channels a follow for inspiration and cooking tips.