BBQ recipes - Fire up for Summer
Get ready to Fire up for Summer with our 5 days to become a BBQ Master starting on Saturday 10th July on our social channels.
Each day we will be sharing hints and tips including everything from choosing your fuel, BBQ cooking times, delicious side dishes and to round it all up we will be hosting a live masterclass on Wednesday 15th July with Chef Russel Davies cooking up a flat iron streak on the BBQ.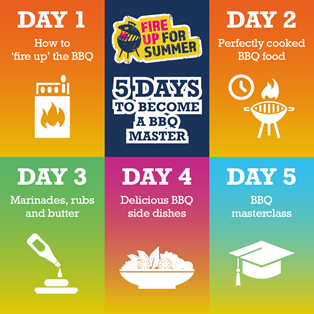 You can also find all things BBQ related in our collection below from Indian spiced burgers to low and slow brisket and finger licking good kebab recipes. However, we all know how quickly the weather can change, so these recipes are perfect for both indoor and outdoor cooking!
Make sure to check out our additional video guides for top tips, tasty techniques and common BBQ mistakes to avoid
Top BBQ hints and tips
Need to brush up on your BBQ skills? We've put together a super handy video to get you bbqing like a pro, including different types of bbq and fuels, to cooking hints and tips!
If you really want to step up your BBQing game, make sure to check our our BBQ Hacks blog for more on our top 10 BBQing hacks and how to make a DIY smoker without breaking the bank.
How to prepare flavoured butter for the BBQ
How to create the perfect BBQ marinade
How to prepare a simple dry rub for the BBQ
We've also teamed up with our friends over at Love Pork and Love Potatoes to bring you the ultimate BBQ feast, so make sure to check them our for more BBQ pork and potatoes recipes.