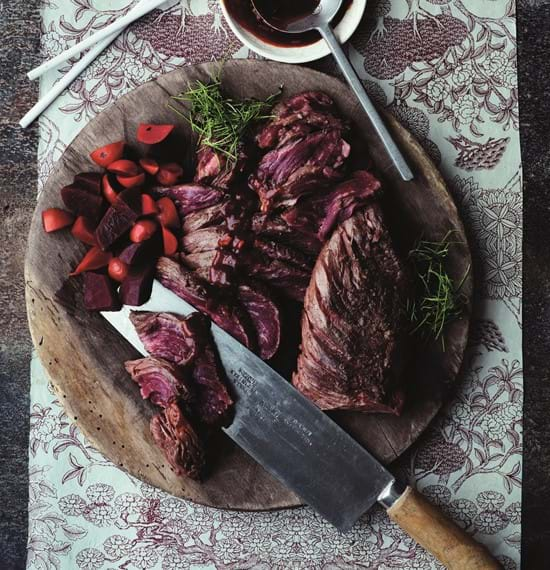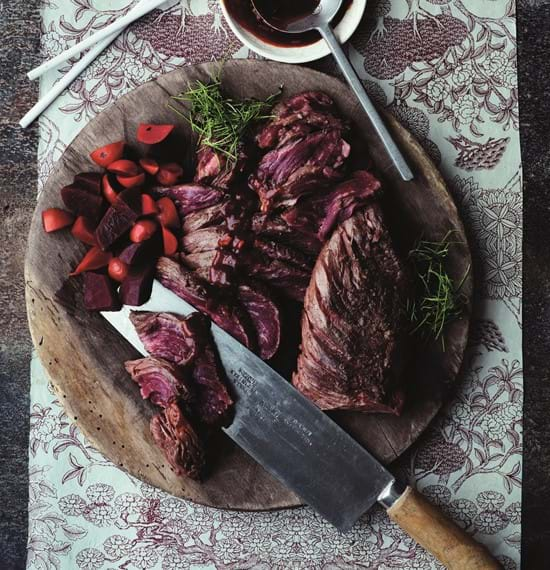 Steak with Pickled Radish and Beetroot
Hanger or butcher's steak brushed with a little anchovy sauce on both sides, pan fried and served with a quick home made pickled radish and beetroot vegetable mix and a Korean-style sauce.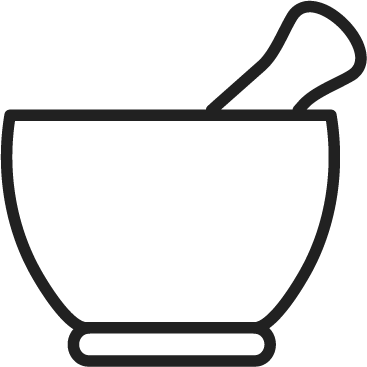 prep time
20 mins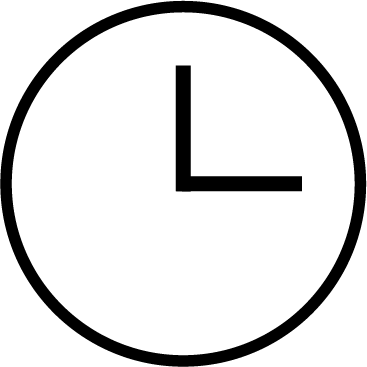 cook time
35 minutes serves
2 people
Ingredients
450g/1lb hanger/butchers steak

10ml/2tsp rapeseed oil

Salt and freshly milled black pepper

5ml/1tsp anchovy paste

For the Pickled Radish and Beetroot

:1 x 200g/7oz pack radishes

2 small whole raw beetroot, washed

1 x 2.5cm/1 inch piece fresh root ginger, peeled and finely chopped or grated

400ml/14 fl oz white wine vinegar

2.5ml/½tsp salt

100g/4oz caster sugar

2 star anise

For the Korean Sauce

:50g/2oz Korean paste (gochujang)

15ml/1tbsp soy sauce

10ml/2tsp rice wine vinegar

10ml/2tsp light brown sugar

1 large garlic clove, peeled and finely chopped or crushed

1 x 2.5cm/1 inch piece fresh root ginger, peeled and finely chopped or grated

15ml/1tbsp sesame oil

Sesame seeds, to garnish

Micro herbs, to garnish
Method
Boil the beetroots in a saucepan for 20-30 minutes.  Cool, peel and cut into quarters.

Remove the steaks from the fridge at least 20 minutes before cooking to bring up to room temperature.

For the pickled vegetables; put the vinegar, salt, sugar, garlic and spices, in a non-metallic saucepan.  Heat gently until the sugar dissolves. Remove from the heat.

Put the vegetables in a 500ml/18 fl oz sterilised* jar, pour over the pickling liquid, seal, cool slightly and use as required.

In a small dish mix the sauce ingredients together and set aside. Heat a large non-stick pan until hot.

Place the steaks on a chopping board, brush with oil, season and coat with the anchovy paste on both sides.

Cook the steaks for 1-2 minutes on each side.  Remove and leave to rest for 2-3 minutes then slice thinly.

Serve garnished with micro leaves, pickles and sauce.
Tips:
To avoid staining, use gloves when peeling the beetroot. *To sterilise jars, simply wash with soapy water and heat in a moderate oven for 5 minutes. If preferred use rump or sirloin steak. Follow the cooking times below: (Based on a 2cm/¾in thick steak): Rare: 2½ minutes on each side Medium: 4 minutes on each side Well done: 6 minutes on each side
Recipes you may also like