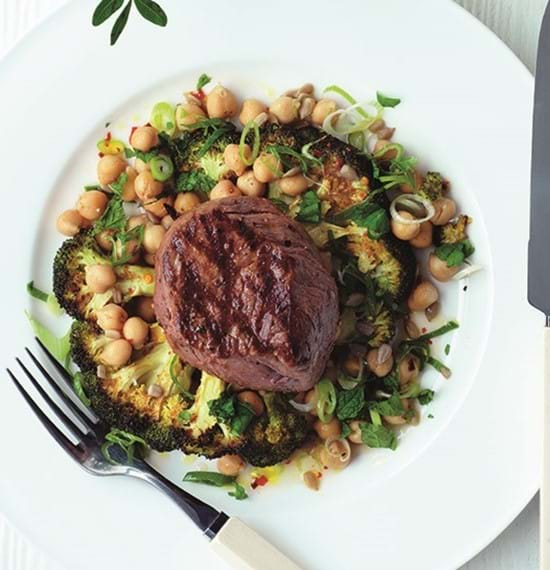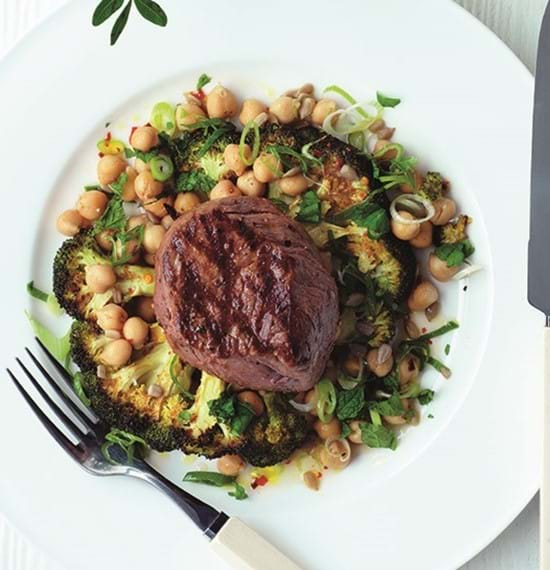 Griddled Beef with Crispy Broccoli and Chick Peas
Pan-fried fillet or flat iron steaks pan fried and served with roasted broccoli `steaks' roasted with a drizzle of oil, garlic, ground cumin, lemon and chick peas.then finished with a light chilli dressing.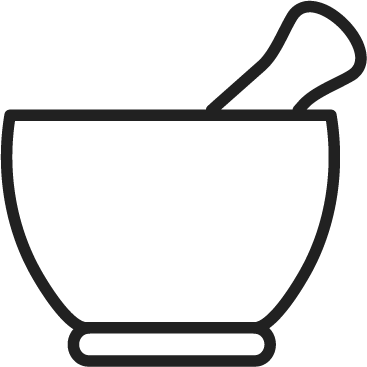 prep time
30 mins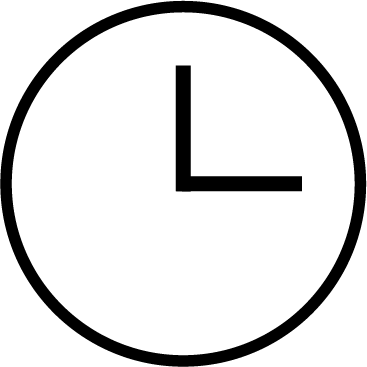 cook time
25 minutes serves
2 people
For fillet steak
To Cook Rare: 3-4 minutes on each side
To Cook Medium: 4-5 minutes on each side
To Cook Well Done: 6-7 minutes on each side
Energy

557kcal

Fat

30.4g

Saturates

5.8g

Carbs

29g

Sugars

8.4g

Fibre

10.7g

Protein

45.3g

Salt

0.3g
Ingredients
2 x 150g fillet steaks or 2 x 175g lean flat iron steaks

For the Crispy Broccoli:

2 heads of broccoli

1 garlic clove, peeled and finely chopped

2 teaspoons ground cumin

2 tablespoons rapeseed oil

Juice of ½ small lemon

1 x 400g can chick peas, drained

2 spring onions, finely chopped

For the Dressing:

2 tablespoons white wine or cider vinegar

1 tablespoon runny honey

1 tablespoon rapeseed oil

Pinch dried chilli flakes

Fresh mint leaves, to garnish
Method
Remove the steaks from the fridge at least 20 minutes before cooking to bring up to room temperature.

To prepare the broccoli; preheat the oven to 200°C, 180°C Fan, Gas Mark 6.

Cut the broccoli stem into half, starting at the stem, then cut each half in half again to produce two thick slices from each steam.  Save any loose broccoli florets, pop in the fridge and use later.  Place the broccoli steaks on a baking sheet lined with parchment paper.

In a small bowl mix the garlic, cumin, half the oil and lemon juice together and brush the broccoli on both sides.  Roast for 20 minutes until brown.  Turn the broccoli steaks over, add the chick peas and cook for a further 5 minutes.

Meanwhile, heat a non-stick griddle pan until hot.

Place the steaks on a chopping board, brush with the remaining oil and season with salt and pepper.

Cook on the steaks according to your preference. Transfer to a warm plate, cover with foil and leave to rest for 5-10 minutes (for flat iron) or 2-3 (for fillet steak).

In a small bowl mix the dressing ingredients together.

Serve the steaks on top of the broccoli steaks, spoon the chick peas around, drizzle with the dressing.  Garnish with the mint leaves and sunflower or pumpkin seeds.
Tips:
Cooking time for flat iron steaks: Rare -2 minutes on each side Medium Rare - 3-4 minutes on each side Medium - 5-7 minutes on each side
Recipes you may also like