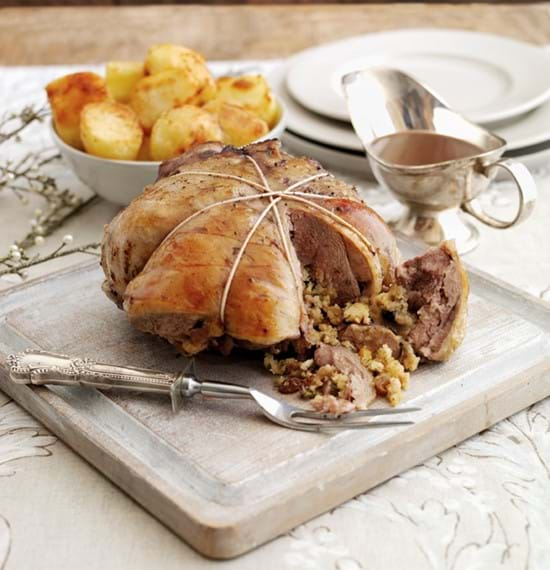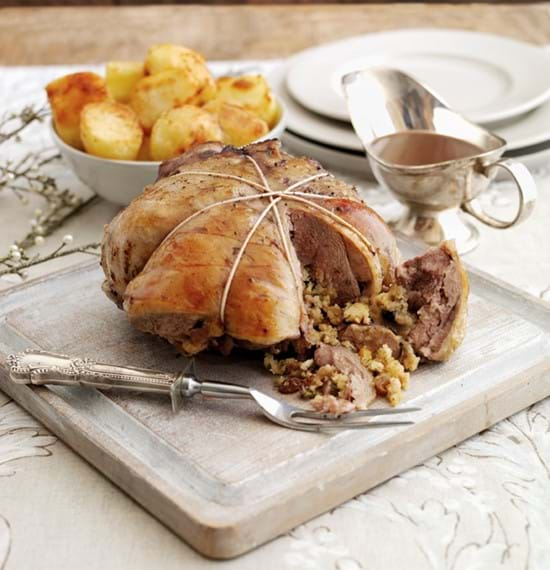 Boneless Cushion of Lamb with Festive Stuffing
An alternative Christmas roast featuring boneless cushion of lamb shoulder.  It's really a cut to try.  Ask your butcher in advance to stuff it for you using our festive stuffing made with mincemeat, herbs, breadcrumbs and lemon juice too.  The roast is served with a warming mulled wine gravy to add any festive cheer.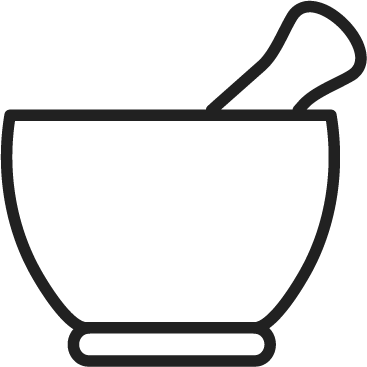 prep time
25 mins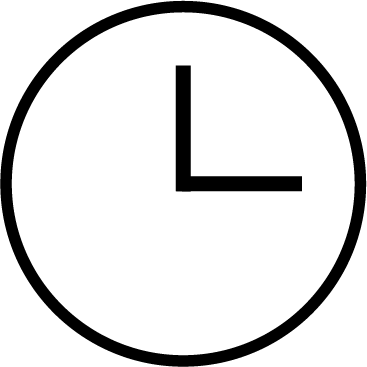 cook time
1 hour 40 minutes serves
6 people
To Cook Medium: 25 minutes per 450g plus 25 minutes
To Cook Well Done: 30 minutes per 450g plus 30 minutes
Energy

526kcal

Fat

22.8g

Saturates

9.3g

Carbs

33.1g

Sugars

18.8g

Fibre

2.6g

Protein

44.7g

Salt

0.8g
Ingredients
1.25-1.3kg lean boneless cushion of lamb shoulder

2 large red onions, peeled and cut in half

½ teaspoon whole cloves

2 teaspoons oil

For the Festive Stuffing:

75g prepared mincemeat

75g fresh breadcrumbs

Zest and juice of 1 lemon

1 tablespoon freshly chopped flat-leaf parsley

For the Gravy:

450ml good, hot lamb stock

150ml mulled wine

25g plain flour
Method
Prepare the stuffing; mix all the ingredients together and set aside.
Preheat the oven to 170°C, 150°C, Fan, Gas Mark 3.
Put the onions on a chopping board, cut in half and randomly `pin' the cloves in the onion halves and place in the base on a non-stick roasting tin.
Place the lamb on a chopping board, remove any butcher's string or elasticated meat bands, unfold and with skin side down season on both sides.  Spread the stuffing mixture evenly inside the joint, but do not overfill. Secure the cushion with new butcher's string or elasticated meat bands.
Weigh the joint and place on top of the onions, then drizzle with the oil.  Add the stock and wine. Cover and roast in a preheated oven for 2-2½ hours, basting occasionally.  30 minutes before the end of the cooking time remove the foil and return the lamb to the oven.
Remove the lamb and the onions from the roasting tin, transfer to a warm platter and cover with foil.
Meanwhile, make the gravy: Spoon off any excess fat from the roasting tin and discard.  Place the roasting tin over a medium heat and sprinkle over the flour.  Stir well with a small whisk or spoon, scraping the base of the pan to release any rich, sediment.
Adjust the seasoning to taste and simmer for 8-10 minutes, stirring occasionally until reduced to a well-flavoured gravy.  Strain before serving.
Serve with seasonal vegetables and roast potatoes.
Tips:
If you don't want to use wine increase the stock to 600ml.
Recipes you may also like