Curry works with everything, but we're obviously big fans of beef and lamb curry recipes. Whether it's a mellow Massaman or a taste-bud-tingling Jalfrezi, there really is a curry for everyone. We've selected a few of our favourites to inspire you, as well as one of our favourite curry accompaniments: lamb keema.

Lamb curry recipes
Lamb curries, much like beef, are packed full of flavour and volume. Whether you like it spicy or mild, there are a variety of lamb curries to suit everyone.
We've even got a Thai-based lamb curry, so dig into that if you fancy something different.

Beef curry recipes
Tasty, succulent and filling, beef works spectacularly well in a curry. Whether it's a biryani or a madras, nobody can turn down a well-made beef curry.
Below, we've listed some of our favourite beef curry recipes that can be used with fresh ingredients or leftovers.
Want a curry in a hurry? This delicious Speedy Beef Curry uses pre-made curry paste and will be ready in as little as 40 minutes – perfect for any day of the week.
​
Cooking with keema​
Here at Simply, we are big fans of Keema. Inspired by South Asian cuisine, Keema is usually made into a curry using lamb mince and peas. The ingredients can vary, but generally consist of lamb mince, garlic, ginger, chilli, onions and garam masala or curry powder. All the ingredients are cooked in one pan, creating a delicious dish bursting with flavour.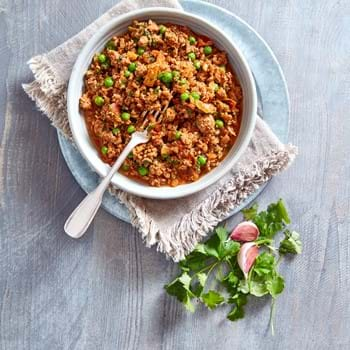 What can I make with keema?
Keema is perfect for those who are short on time and looking for a meal that the whole family will love. We love the versatility that comes with cooking with keema. It can be served as a traditional Indian dish with a side of rice and naan, or can be combined with classics like a pasta bake for a flavoursome dish with a twist!
Keema is a great base for many different dishes making it ideal for batch cooking. Simply whip up a batch of keema over the weekend and freeze portions ready for weekly meals whenever you need them. Check out our tasty Lamb Keema recipe below, plus some of our favourite dishes you can make with a keema base.
Don't forget to check out our Beef Curry and Lamb Curry collection pages for even more recipe inspiration.