The Keema Sutra
It's easy to fall into the rut of cooking the same, uninteresting family meals time and time again – but what if cooking something new and exciting was quick, easy and didn't break the bank? See our recipe booklet 'The Keema Sutra', to banish boring recipes and inspire families to spice up mealtimes. 
​
Lamb Keema​
It's all about having the confidence to experiment, be a little more open minded and adventurous but most importantly to have some fun and fall in love with lamb all over again.  Keema is the perfect way to do just that. The base for many Indian recipes, it's a tasty lamb mince version of spag bol and is the perfect solution for family dishes; versatile, adds flavour and is easy to prepare. Learn to cook keema with our recipe flip book and you'll open the door to whole host of wonderful new recipes to explore and enjoy!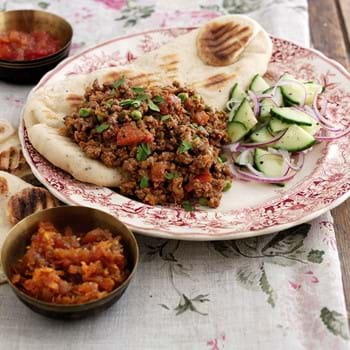 Celebrity chef Cyrus Todiwala and his wife Pervin talked to a range of UK radio channels about the dishes that have been handed down to them, the little touches they've added to make them different and why keema is their favourite family recipe. Hear their passion for Keema and take a listen.   
More Keema recipe inspiration...