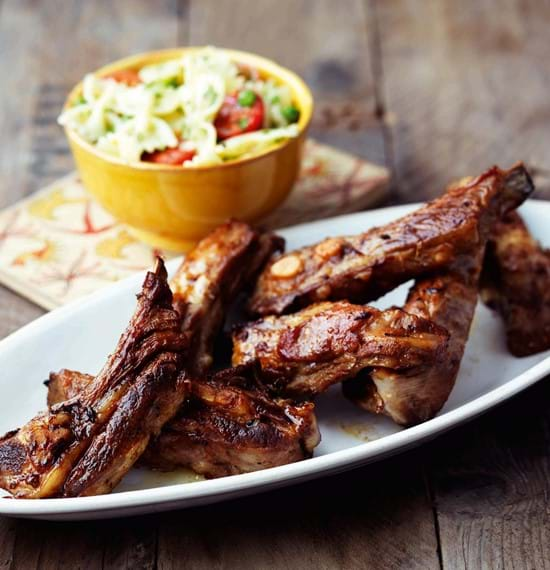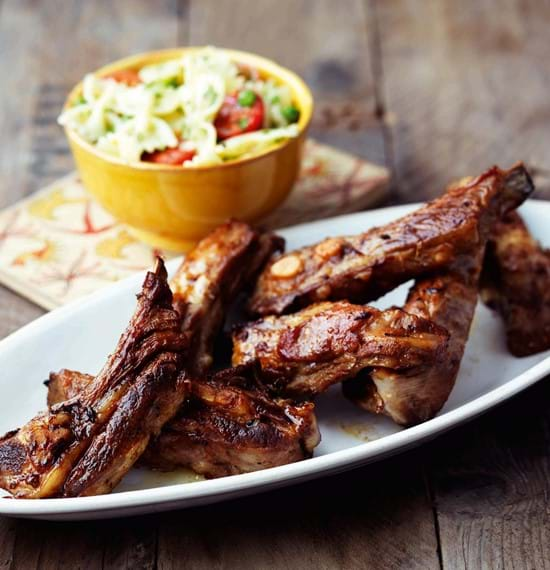 Sticky Lamb Ribs
These lamb ribs are delicious and great served at a barbecue or garden party. The ribs are marinated in ginger ale, onions, garlic, soy sauce and honey and served with a light tomato, pasta and pea salad.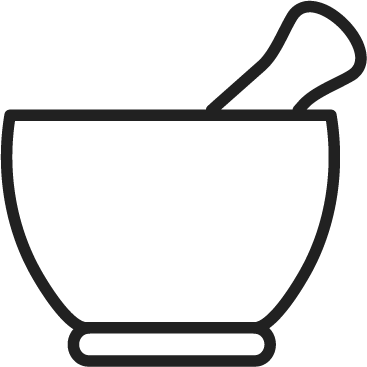 prep time
30 mins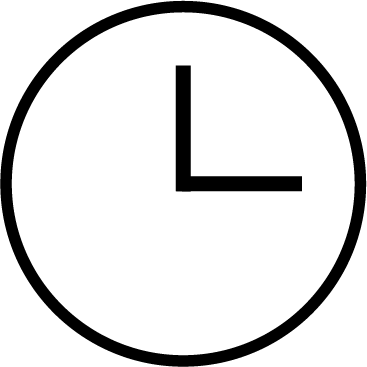 cook time
1 hour 30 minutes serves
4 people
Ingredients
1.3kg/3lb lean lamb ribs

For the Marinade:

1 small onion, peeled and grated

300ml/½pint ginger ale or cola

30ml/2tbsp light soy sauce

30ml/2tbsp rapeseed or olive oil

2 garlic cloves, peeled and finely chopped

30ml/2tbsp runny honey

Freshly milled black pepper

For the Tomato, Pasta and Pea Salad:

200g/7oz dried pasta shapes, cooked, drained and cooled

200g/7oz cherry or baby plum tomatoes, halved

100g/4oz fresh or frozen shelled peas, blanched in hot water

30ml/2tbsp freshly chopped flat-leaf parsley

For the Vinaigrette Dressing:

1 small shallot, peeled and finely chopped

15ml/1tbsp white wine or cider vinegar

45ml/3tbsp extra virgin rapeseed or olive oil
Method
1.  To prepare the marinade; in a large non-metallic dish mix all the ingredients together.  Add the lamb and marinate for a minimum of 2 hours, or overnight if time allows.
2.  Preheat the oven to Gas mark 6, 200°C/400°F.
3.  Remove the lamb from the marinade and transfer to a large non-stick roasting tin.  Roast for 1 hour covered with foil, turning once. Remove the foil, return to the oven uncovered for the final 30 minutes.
4.  Meanwhile prepare the salad; put the pasta, tomatoes, peas and parsley in a large bowl.
5.  In a small screw-topped jar with a lid mix all the vinaigrette ingredients together. Pour the mixture over the salad then toss gently.
6.  Transfer the ribs to a large plate and serve with the salad.
Tips:
For barbecue style ribs, coat the ribs in 150ml/¼ pint prepared barbecue sauce and cook according to the method instructions.
Recipes you may also like