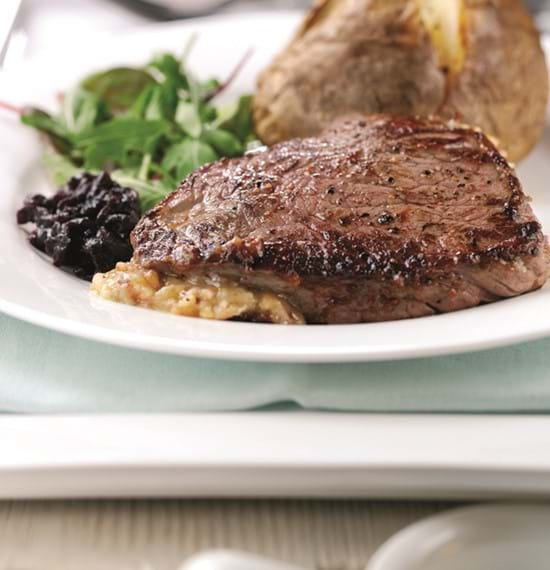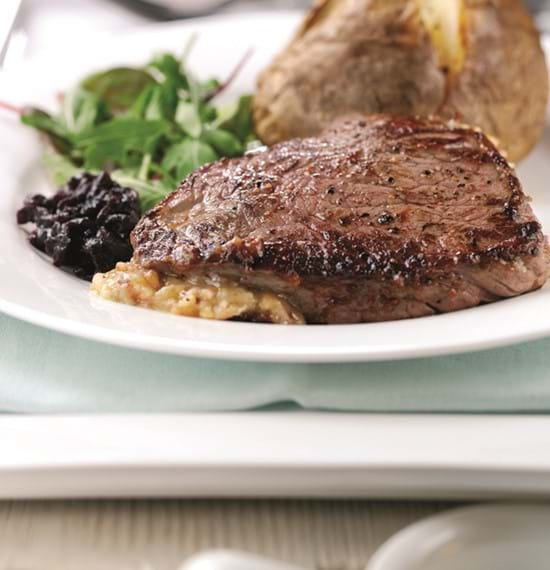 Stilton Stuffed Rump Steak
Ideal entertaining dish or weekend supper. Rump steaks stuffed with creamy blue cheese and complimented by tangy sweet and sour red onion relish.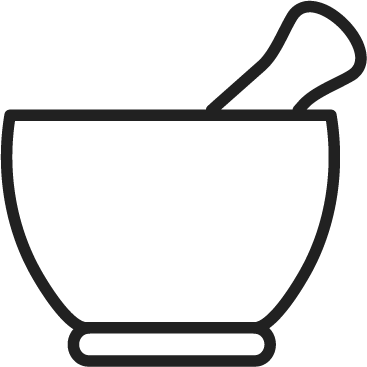 prep time
40 mins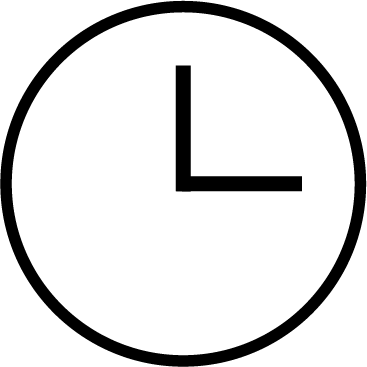 cook time
12 minutes serves
4 people
Based on a 2cm thick steak
To Cook Rare: 2½ minutes on each side
To Cook Medium: 4 minutes on each side
To Cook Well Done: 6 minutes on each side
Ingredients
4 x 175g lean rump steaks,

150g blue cheese, e.g. Stilton

15g butter, slightly softened

1 tablespoon single cream

2 tablespoons hazelnuts, finely chopped

2 tablespoons sunflower oil

For the sweet and sour onions:

25g butter

2 red onions, peeled, halved and sliced

2 sprigs fresh thyme leaves

1 tablespoons soft brown sugar

200ml red wine

4 tablespoons good balsamic vinegar

1 tablespoon redcurrant jelly
Method
Place the cheese, butter, cream and hazelnuts in a small bowl. Mash together and season.
Place the steaks on a chopping board and make a small incision at opposite ends of the steaks, taking care not to cut through the flesh.
Carefully open each pocket and fill with the cheese mixture. Secure each pocket with a cocktail stick, if required. Place on to a plate, cover and refrigerate for 30 minutes.
Prepare the sweet and sour onions; gently heat the butter in a large pan and add the onion and cook for 4-5 minutes until soft.  Add the remaining ingredients and cook for 4-5 minutes until caramelise, stirring occasionally.
To cook the steaks; heat the oil in a large non-stick frying pan. Season the steaks on both sides and cook according to your preference.
Serve the steaks with a portion of the onion marmalade, a jacket potato and a side salad.