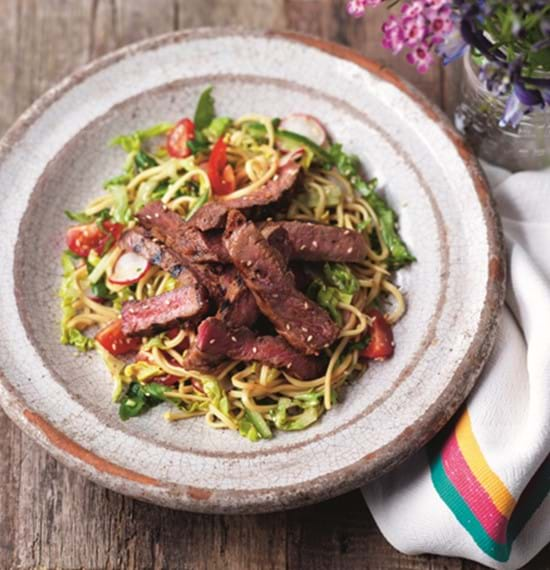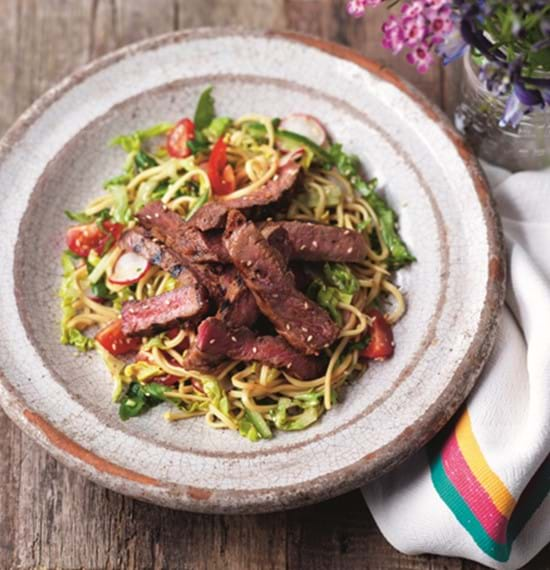 Mustard Marinated Steaks with Noodles,Cucumber and Radish Salad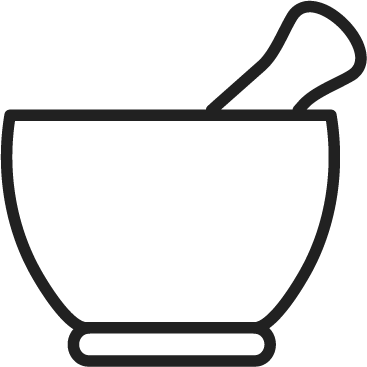 prep time
25 mins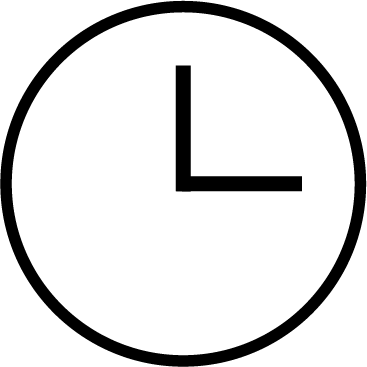 cook time serves
4 people
To Cook Rare: Rare: 2½ minutes on each side
To Cook Medium: Medium: 4 minutes on each side
To Cook Well Done: Well done: 6 minutes on each side
Ingredients
4 x 175g lean sirloin, rib-eye, rump or flat iron steaks

For the Mustard Marinade:

4 tablespoons rice wine or mirin

2 teaspoons English mustard

2 tablespoons caster sugar

2 tablespoons dry sherry

For the Noodle, Cucumber and Radish Salad:

350g cooked and cooled noodles

1 spring onion, finely chopped

2 small Gem lettuces, rinsed and shredded

6-8 radishes, finely sliced

1 small cucumber, cut into matchsticks or julienned

6 cherry tomatoes, quartered

1 tablespoon toasted sesame seeds

For the Dressing:

4 tablespoons soy sauce

2-3 teaspoons sesame oil
Method
To prepare the marinade; in a shallow non metallic dish mix all the ingredients together.
Add the steaks, cover and marinate in the fridge for up to 2 hours, or if time allows, overnight.
To prepare the noodle salad; put all the ingredients in a large bowl. Mix the dressing ingredients together, pour over the salad and toss gently. Season.
Remove the steaks from the marinade and cook according to your preference on a prepared barbecue or under a moderate preheated grill.
Serve the steaks with the salad.
Tips:
*For flat iron steaks follow the cooking times below: Rare -2 minutes on each side Medium Rare - 3-4 minutes on each side Medium - 5-7 minutes on each side For best results cover with foil and rest for 5-10 minutes before serving.
Recipes you may also like