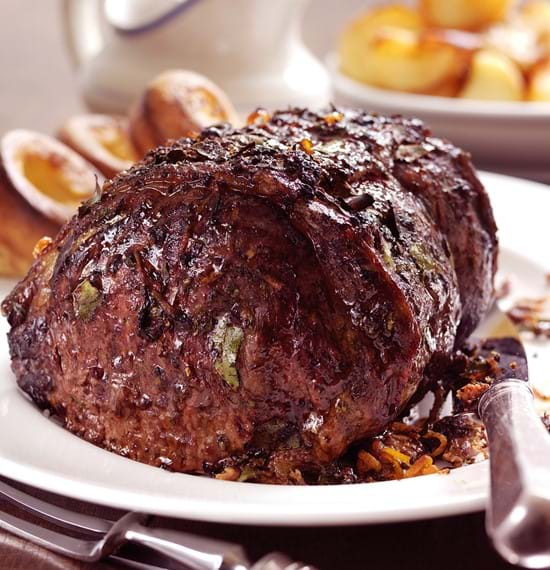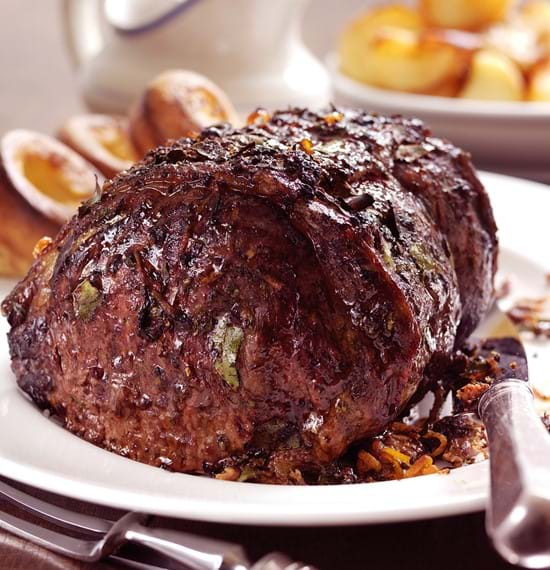 Roast Beef with Juniper Gravy
A slightly different twist to the Sunday roast, with a herb, lemon and juniper rub giving a wonderful flavour to the gravy.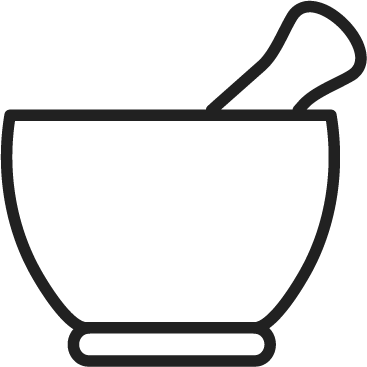 prep time
10 mins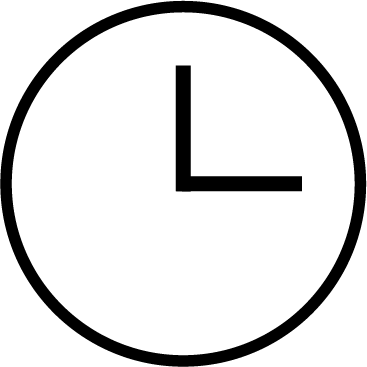 cook time
2 hours serves
6 people
To Cook Rare: 20 minutes per 450g plus 20 minutes
To Cook Medium: 25 minutes per 450g plus 25 minutes
To Cook Well Done: 30 minutes per 450g plus 30 minutes
Energy

353kcal

Fat

16.3g

Saturates

3.9g

Carbs

2.4g

Sugars

0.3g

Fibre

1.2g

Protein

50.7g

Salt

1.2g
Ingredients
1.25-1.3kg lean boneless sirloin or topside joint

4 bay leaves, broken into small pieces

1-2 teaspoons smoked paprika, optional

4 tablespoons olive oil

Grated zest of 1 lemon

2 tablespoons freshly chopped flat-leaf parsley

1 teaspoon juniper berries, finely crushed

1 tablespoon plain flour or 1-2 tablespoons gravy granules

450-600ml good, hot beef stock

Extra freshly chopped flat-leaf parsley, to garnish
Method
Preheat the oven to 180-190°C, 160-170°C  Fan, Gas Mark 4-5.
Place the beef on a chopping board, make several slits over the joint and season.
In a small bowl mix together the bay leaves, smoked paprika (if using), olive oil, lemon zest, parsley and juniper berries.
Spread the paste over the joint, place on a rack in a non-stick roasting tin and open roast for the preferred calculated cooking time, basting occasionally with any of the beef juices.
Remove the joint from the oven, wrap loosely in foil and allow to rest whilst preparing the gravy. Spoon off any excess fat from the tin and discard. Place the tin over a medium heat and sprinkle over the flour. Stir well with a small whisk or spoon, add a little stock and stir again, scraping the base of the pan to release any beef sediment.
Add the remaining stock and any meat juices from the platter, adjust the seasoning, bring to the boil, reduce the heat and simmer for 8-10 minutes or until thickened to a well-flavoured gravy. Strain the gravy before serving, if required.
Serve with Yorkshire puddings, roast potatoes and seasonal vegetables.
Tips:
If preferred make your gravy with gravy granules.
Recipes you may also like