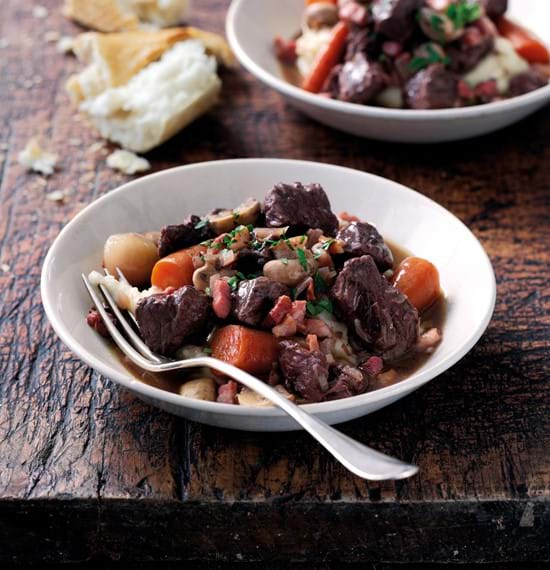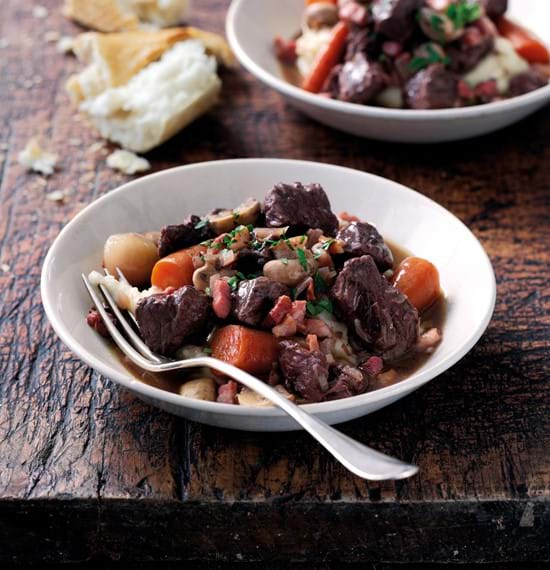 Traditional Beef Bourguignon
Beef bourguignon is a classic hearty casserole made from beef slowly cooked in wine, with herbs, shallots, mushrooms and carrots – and let's not forget the delicious bacon lardons. This traditional dish is definitely one of the most famous French recipes, originating from the Burgundy region. However it's also a popular dish in the UK today.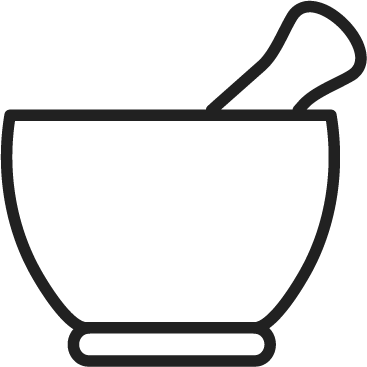 prep time
25 mins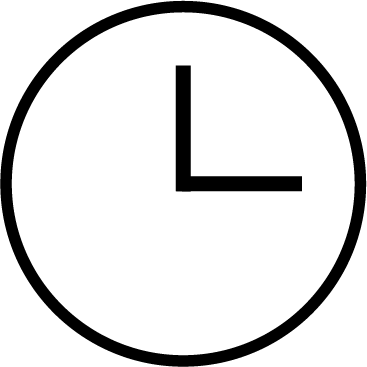 cook time
2 hours 45 minutes serves
6 people
Energy

446kcal

Fat

19.6g

Saturates

4.8g

Carbs

12.4g

Sugars

7.3g

Fibre

3.3g

Protein

32.2g

Salt

1.6g
Ingredients
675g/1½lb lean chuck steak or boneless shin, cut into 5cm/2inch cubes

45ml/3tbsp rapeseed or olive oil

1 medium onion, peeled and chopped

200g/7oz baby carrots, tops removed

2 large garlic cloves, peeled and finely chopped or crushed

750ml/1 bottle good red wine

1 bouquet garni

30ml/2tbsp plain flour

200g/7oz bacon lardons or pancetta cubes

300g/10½oz shallots or baby onions, peeled and left whole

100g/4oz button mushrooms, halved

Salt and freshly milled black pepper

10ml/2tsp sugar

30ml/2tbsp freshly chopped flat-leaf parsley, to garnish
Method
Heat the half the oil in a 1.7L/3pint flame/ovenproof casserole dish with a lid and cook the beef in batches for 4-5 minutes in batches until brown all over.  Remove and set aside.  Cook the onions, carrots and garlic for 3-4 minutes.

Bring to the boil, reduce the heat and simmer uncovered for 2 minutes.  Return the meat to the pot and sprinkle over the onions. Sprinkle over the flour and stir gently.

Add the wine and bouquet garni.  Season and cook in a preheated oven at Gas mark 2, 150°C, 300°F, or on the hob under a very low flame for 2-2½ hours.

45 minutes before the end of the cooking time heat the remaining oil in a large non-stick frying pan and cook the bacon lardons and shallots or baby onions for 4-5 minutes until soft, and lightly browned.  Add to the casserole pot with the mushrooms, season, stir gently, then cover and cook for the remaining cooking time.

Remove the bouquet garni, garnish with parsley and serve with boiled new potatoes, or mash and seasonal vegetables.
Additional Recipe Information:
Top tips for a traditional beef bourguignon
Don't be tempted to rush your beef bourguignon. If the temperature is too high, it'll boil the dish and impair the flavour. So ensure it's cooked over a low heat for 2.5 hours. Slow and steady wins the race.
If you have time to prepare this the day before, it tastes even better if left over night in the fridge. Alternatively, if you cook it the same day you're serving it, any leftovers will taste fantastic the following day.
An easy and slow cooker version of this recipe is also available.
Recipes you may also like