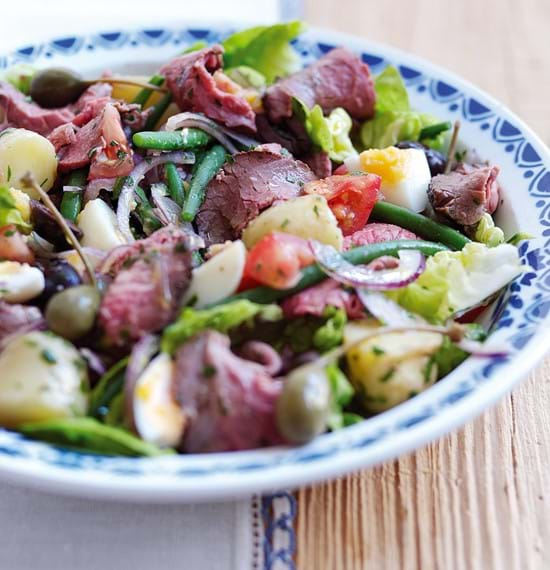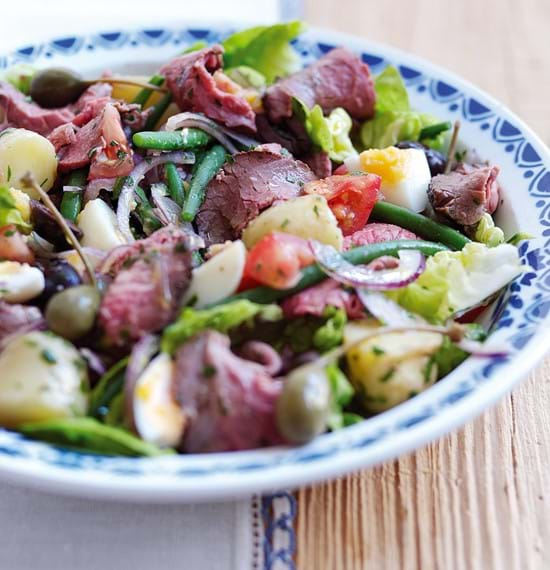 Summer Beef Salad Nicoise
Serve immediately with crusty bread. This recipe works well with leftover cooked roast beef too.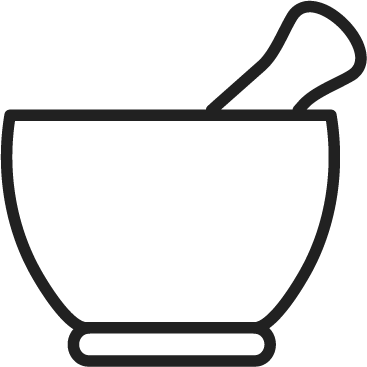 prep time
20 mins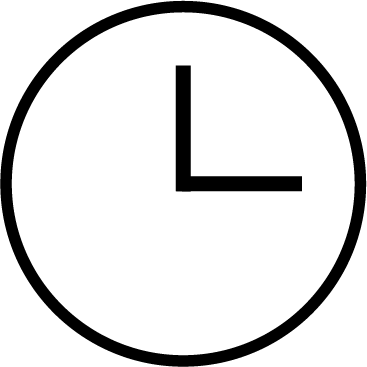 cook time
1 hour 30 minutes serves
6 people
Energy

575kcal

Fat

38.4g

Saturates

7.6g

Carbs

23.9g

Sugars

6.8g

Fibre

4.7g

Protein

33.4g

Salt

0.6g
Ingredients
450-675g lean topside or mini roast joint

½oz softened butter

2 garlic cloves, peeled and crushed

4 tablespoons freshly chopped chives

3 medium eggs, hard-boiled and roughly chopped

15 small new potatoes, halved and cooked

100g fine green beans, topped, tailed and blanched

3 little Gem lettuces, roughly torn

10-12 black olives, halved

1 red onion, peeled and finely sliced

4-6 tomatoes, chopped

2 tablespoons freshly chopped flat-leaf parsley

Few caper berries, to garnish, optional

For the dressing:

4 tablespoons red wine vinegar

175ml extra virgin olive oil

2 small garlic cloves, peeled and finely chopped
Method
Preheat the oven to 180-190°C, 160-170°C, Fan, Gas Mark 4-5.
Place the joint on a chopping board. Make several slits over the surface of the joint and season. In a small bowl mix together the butter, garlic and chives and spread generously over the joint and into the slits.
Place on a metal rack in a large non-stick roasting tin and open roast in a preheated oven for the preferred, calculated cooking time, basting with any rich meat juices. After roasting cover and leave to rest for 5-10 minutes.
Prepare the dressing; place all the ingredients into a screw-topped jar and shake well.
Place all the salad ingredients in a large salad bowl. Slice the beef very thinly and toss lightly in the salad. Drizzle over the dressing.
Serve immediately with crusty bread.
Tips:
This recipe works well with leftover cooked roast beef too.