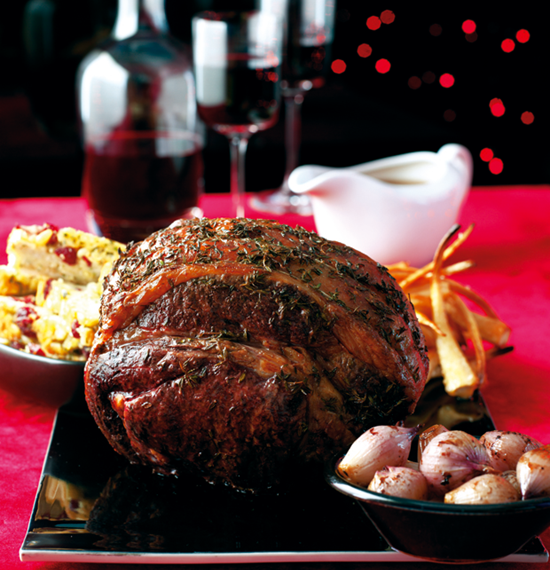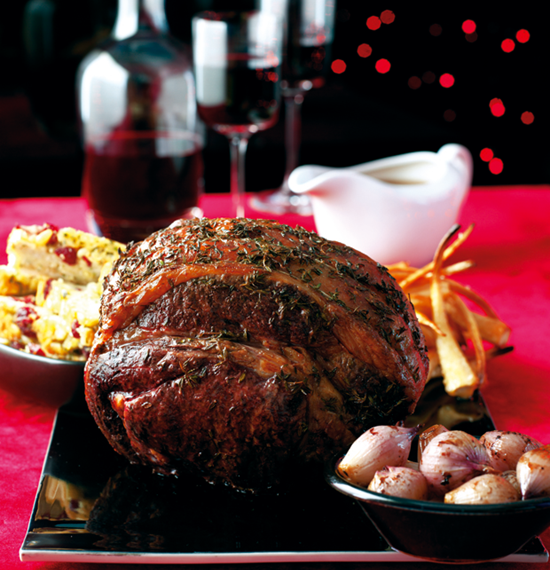 Boneless Rib of Beef with Thyme Butter,Caramelised Shallots and Madeira Gravy
A celebratory or festive centrepiece with a bonless rib or sirloin joint with roasted shallots and port gravy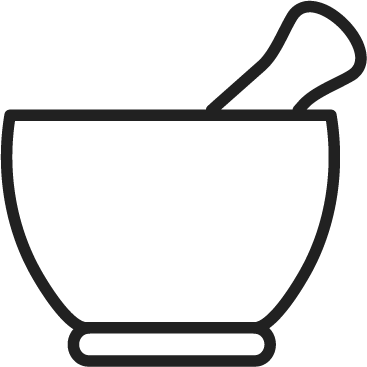 prep time
5 mins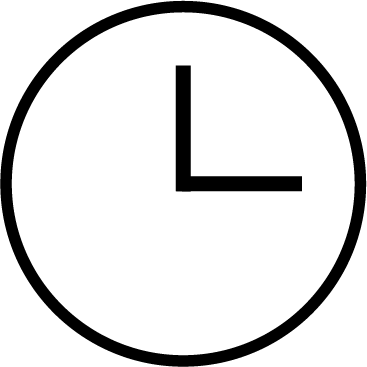 cook time
1 hour 30 minutes serves
10 people
To Cook Rare: 20 minutes per 450g/1lb plus 20 minutes
To Cook Medium: 25 minutes per 450g/1lb plus 25 minutes
To Cook Well Done: 30 minutes per 450g/1lb plus 30 minutes
Ingredients
1.3kg-1.8kg/3-4lb lean boneless rib or sirloin joint

75g/3oz butter, softened

1 large bunch fresh thyme leaves

Salt and freshly milled black pepper

20-25 shallots, peeled and left whole

30-60ml/2-4tbsp good, aged, balsamic vinegar

15ml/1tbsp plain flour

300ml/½ pint hot, good beef stock

150ml/¼ pint Madeira or Port

For the Cranberry and Parmesan Stuffing

:175g/6oz fresh white or wholemeal breadcrumbs

45ml/3tbsp dried cranberries or raisins

30ml/2tbsp pinenuts

75g/3oz grated Parmesan cheese

30ml/2tbsp freshly chopped flat-leaf parsley

2 large eggs, beaten

50g/2oz butter, melted

Salt and freshly milled black pepper
Method
Preheat the oven to Gas mark 4-5, 180-190°C, 350-375°F.
Prepare the thyme butter: In a small bowl mix together the butter, thyme leaves and seasoning.
Place the joint on a chopping board and spread generously with the thyme butter.
Place on a metal rack in a large non-stick roasting tin and open roast for the preferred, calculated cooking time, basting occasionally with any beef juices.
30 minutes before the end of the cooking time, remove the joint from the tin with the rack, add the shallots to the pan with the balsamic vinegar, and gently shake. Place the joint directly on top of the shallots, and return to the oven.
When the beef is ready remove the joint from the tin with the vegetables and transfer to a warmed plate, cover and set aside to rest.
Prepare the gravy; Spoon off any excess fat from the roasting tin and discard. Place the tin over a medium heat and sprinkle over the flour. Stir well with a small whisk or spoon, add a little stock and stir again, scraping the base of the pan to release any rich, beefy sediment.
Add the remaining stock, Madeira or Port and any meat juices from the platter, adjust the seasoning, if required and simmer for 8-10 minutes, stirring occasionally, or until reduced to a well-flavoured gravy. Strain before serving.
Serve with roast potatoes, roasted parsnips, cranberry and parmesan stuffing and the gravy
Cranberry & Parmesan Stuffing
Preheat the oven to Gas mark 5, 190°C, 375°F.
Line a 450g/1lb loaf tin with baking parchment or greaseproof paper.
In a small bowl mix together the remaining ingredients.
Lightly spoon the stuffing into the loaf tin and bake for 25-30 minutes.
Cool slightly, then remove the stuffing from tin and slice into portions.
Serve with the boneless rib of beef.
Recipes you may also like