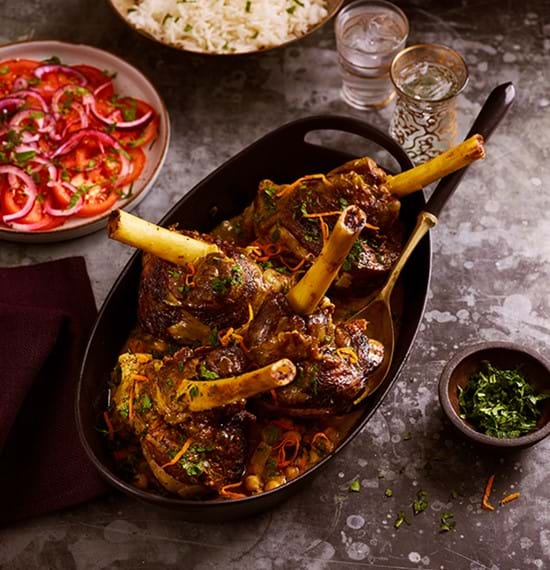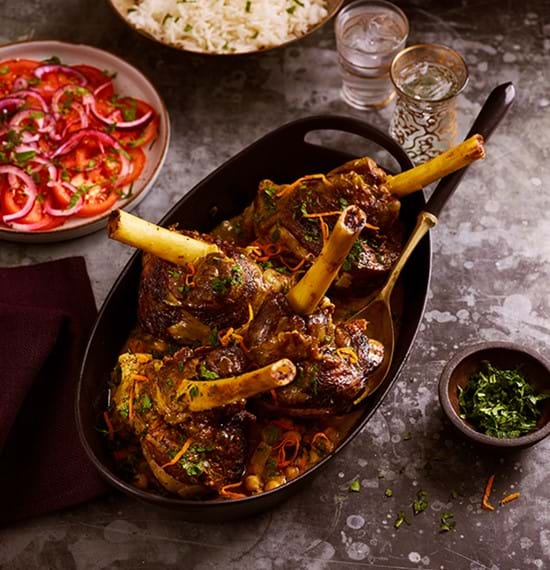 Spiced Mutton Shanks
Slow braised mutton or lamb shanks with Persian spices (cinnamon, nutmeg, ras el hanout), rosewater, onions, stock and fresh bay leaves for a truly Arabian flavoured meal.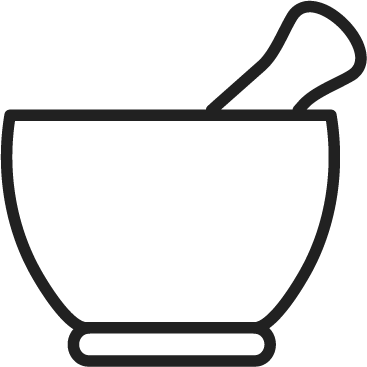 prep time
20 mins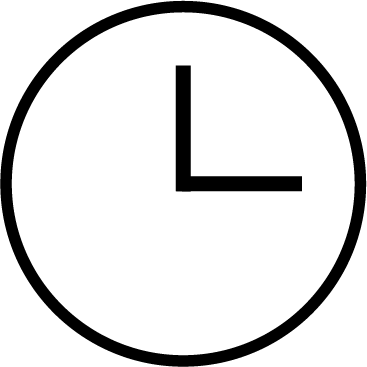 cook time
3 hours serves
4 people
Ingredients
4 whole mutton or lamb shanks, French trimmed

2 tablespoons ras el hanout or:

2 teaspoons ground cinnamon

1 teaspoon ground nutmeg

1 teaspoon ground cardamom

1 teaspoon ground black pepper

1 teaspoon ground turmeric

Pinch of saffron threads

Zest and juice of 2 limes

2 teaspoons rosewater

2 tablespoons oil

1 medium onion, peeled and roughly chopped

600ml hot chicken stock

Zest of 1 orange

Fresh thyme sprigs

2 fresh bay leaves

1 x 400g can chickpeas, drained

2 tablespoons freshly chopped mint leaves, to garnish

2 tablespoons freshly chopped parsley, to garnish
Method
In a large plastic food bag mix the spices (except the saffron) with a little salt. Add the mutton or lamb shanks, coat well, seal and marinate in the fridge for 1 hour or, if time allows, overnight.
Put the saffron threads in a small bowl with the lime zest and juice, rosewater and 100ml warm water. Set aside to infuse for 10 minutes.
Heat the oil in a large flameproof pot over a medium heat. Add the shanks (two at a time) and cook for 5 minutes, or until nicely browned all over. Remove and set aside on a plate, then brown the remaining shanks.
Add the onions to the pot and cook under a moderate heat for 8-10 minutes, stirring occasionally until soft and lightly coloured. Add stock, saffron mixture, half the orange zest, thyme and bay leaves.
Preheat the oven to 180°C, 160°C Fan, Gas Mark 4.
Return the shanks to the pot, bring to the boil, turn off the heat and cover.
Transfer the pot to the oven and cook for 2-3 hours or until the meat falls away from the bone. 20 minutes before the end of the cooking time add the chickpeas and continue to cook.
Garnish with the herbs and the remaining orange zest. Serve with basmati rice or flatbreads and either a tomato and red onion salad or seasonal vegetables.
Recipes you may also like