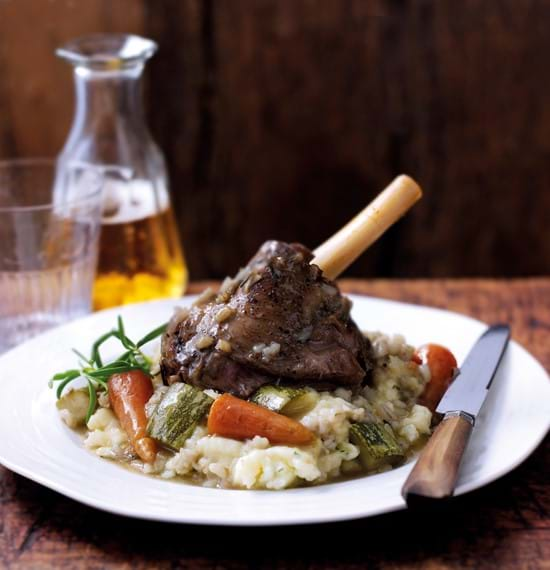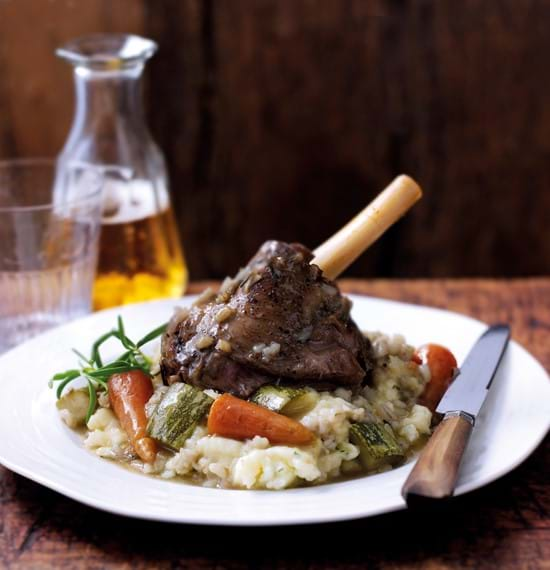 Slow Cooked Lamb Shanks with Pearl Barley (Slow Cooker Version)
This delicious stew made with lamb shanks and pearl barley is the ultimate comfort food. Just pop everything in the slow cooker and it will do the rest with minumum fuss.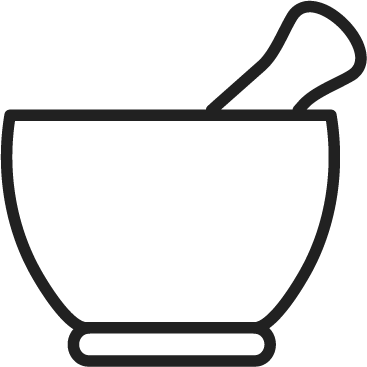 prep time
10 mins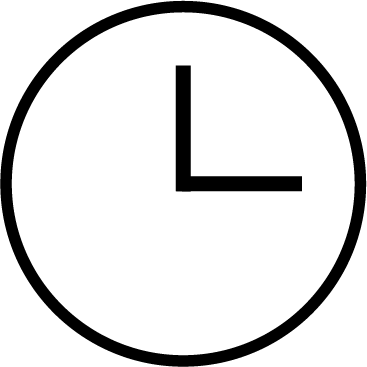 cook time
6 hours serves
4 people
Energy(KJ)

3630

Energy(Kcal)

865

Fat(g)

39.2000007629394

Saturates(g)

13.8999996185303

Carbohydrate(g)

55.5999984741211

Sugars(g)

20.1000003814697

Fibre(g)

5.59999990463257

Protein(g)

67.1999969482422

Salt(g)

1.20000004768372
Ingredients
4 lean lamb shanks

1 onion, peeled and sliced

500g/1lb 2oz baby carrots, tops removed or 4 medium carrots, peeled and roughly sliced

2 garlic cloves, peeled and chopped

2 large sprigs fresh rosemary leaves, roughly chopped

2 bay leaves

300ml/½pint sweet cider

150ml/¼pint good, hot lamb stock

150g/5oz pearl barley

15ml/1tbsp runny honey

280g/10oz marrow (deseeded) or courgettes, roughly chopped
Method
Put all the ingredients except the marrow or courgette in a large slow cooker.

Cook on HIGH for 4-6 hours or LOW for 8-10 hours or according to your manufacturers' handbook.

25 minutes before the end of the cooking time add the marrow or courgettes, stir gently and continue to cook for the remainder of the cooking time.

Serve with herb mash.
Recipes you may also like