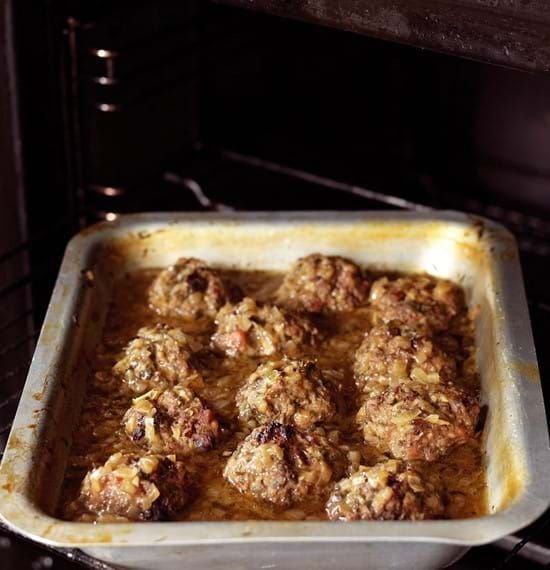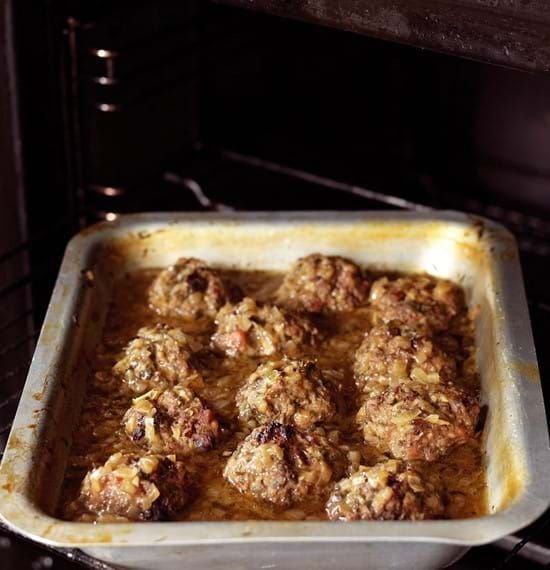 Braised Faggots with Onion Gravy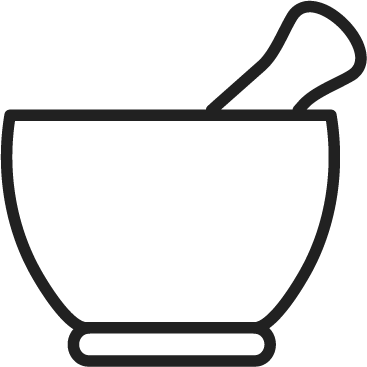 prep time
15 mins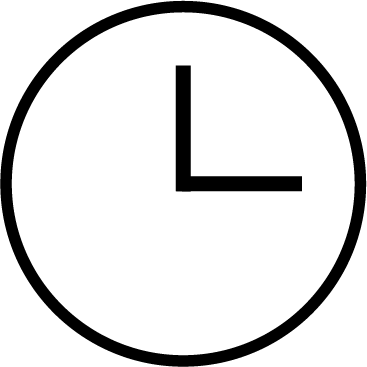 cook time
2 hours serves
6 people
Energy

281kcal

Fat

11.5g

Saturates

3.4g

Carbs

18.4g

Sugars

7.3g

Fibre

2.5g

Protein

25.3g

Salt

1.6g
Ingredients
For the onion gravy:

1 tablespoon sunflower oil

2 large onions, peeled and finely chopped

1 tablespoon plain or sauce flour

300ml ale

600ml good, hot beef stock

Dash Worcestershire or brown sauce

2 tablespoons dried mixed herbs

For the Faggots:

450g lean beef mince

100g lamb's liver, finely chopped

100g streaky bacon, finely chopped

1 small onion, peeled and grated

2 garlic cloves, peeled and crushed

1 tablespoon freshly chopped parsley

2 teaspoons fresh thyme leaves

2 teaspoons freshly chopped sage

50g fresh white or brown breadcrumbs

2 teaspoons English mustard
Method
Prepare the onion gravy; heat the oil in a large saucepan. Add the onions and cook over a moderate heat for 5 minutes. Add the flour and cook for 2-3 minutes, stirring occasionally.
Gradually stir in the ale, stock, Worcestershire or brown sauce, seasoning and dried mixed herbs. Reduce the heat and simmer for 5 minutes.
Preheat the oven to 180°C, 350°F, gas mark 4.
To make the faggots; in a large bowl mix together the faggot ingredients and shape into 12 golf-size balls.
Transfer to a 1.2L rectangular dish or roasting tin and carefully pour over the gravy. Cover with foil and cook in a preheated oven for 1½-2 hours. 15 minutes before the end of the cooking time, remove the foil and return to the oven.
Serve with a creamy combination of mashed potatoes and spring onions.
Tips:
If preferred omit the ale and increase the quantity of stock to 850ml/1½pint. Serve any leftover faggots cold as a sandwich
Recipes you may also like