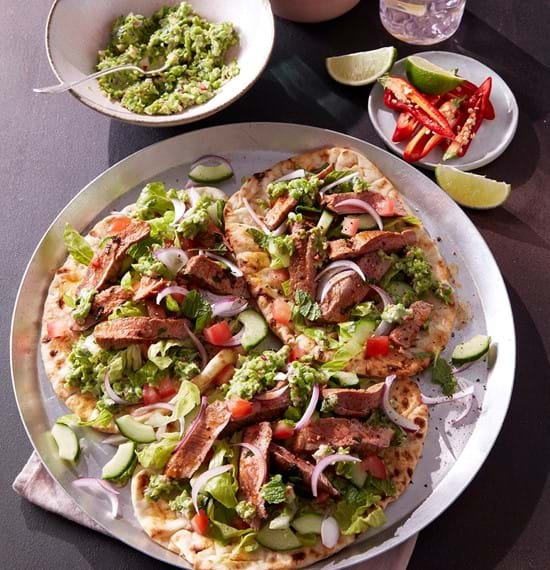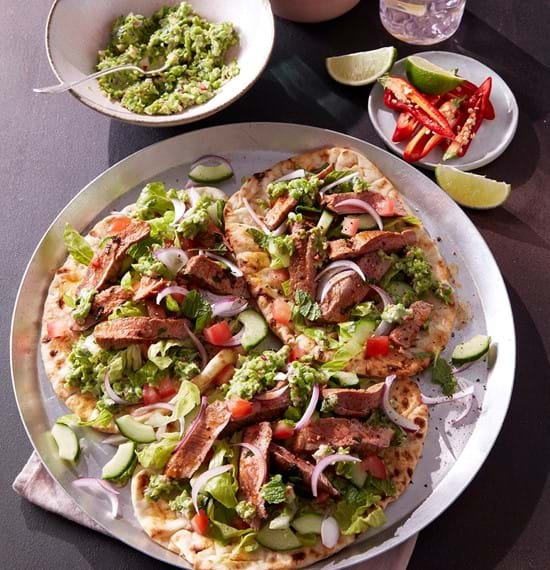 Lamb Flatbreads with Pea Guacamole
Lamb leg steaks dusted in spices, cooked, cut into strips and served in a flatbread with salad and a fresh pea guacamole.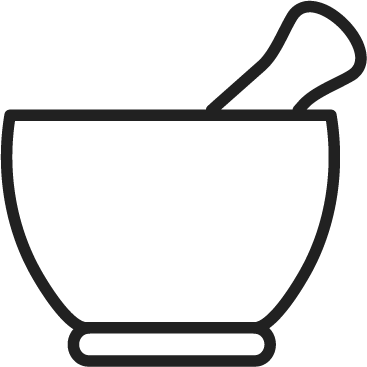 prep time
45 mins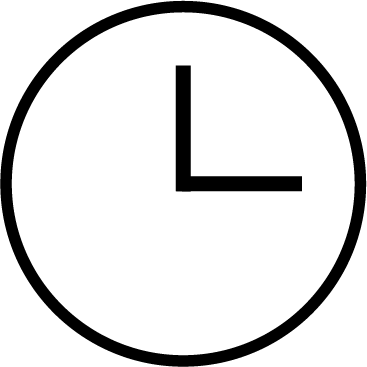 cook time
10 minutes serves
6 people
Energy

279kcal

Fat

11.3g

Saturates

3.2g

Carbs

23.3g

Sugars

5.7g

Fibre

5.6g

Protein

21.4g

Salt

0.6g
Ingredients
450g pack lean boneless lamb leg steaks, trimmed of fat

3 teaspoons oil

1 teaspoon dried chilli powder or ground paprika

1 teaspoon ground cumin

2 tablespoons freshly chopped coriander or mint leaves

6 medium flatbreads or naan breads

For the Salad Accompaniments:

1 small red onion, peeled and finely sliced, to serve

2 tomatoes, deseeded and diced, to serve

½ cucumber, seeds removed and chopped, to serve

1 medium iceberg or romaine lettuce, finely sliced, to serve

Lime wedges, to serve

For the Pea Guacamole:

150g frozen peas, defrosted

1 small red chilli, deseeded and roughly chopped

1 small red onion, peeled and roughly chopped

1 large garlic clove, peeled

Small handful fresh coriander leaves

2 tablespoons fat-free Greek yogurt

Juice of ½ lime

Lime wedges and sliced fresh chillies, to garnish
Method
In a large bowl mix the oil, spices and herbs together. Add the lamb, season and coat well in the marinade. Cover and marinate in the fridge for 30 minutes.
To prepare the pea guacamole, put the peas, chilli, onion, garlic, coriander and lime juice in a blender or food processor. Whizz together until combined.  Transfer to a small bowl, add the yogurt, season and stir gently.  Cover and set aside until required.
Heat a dry non-stick frying or griddle pan over a high heat. When the pan is hot, reduce the heat, add the lamb steaks and cook for 4-6 minutes on each side.
Remove the steaks from the pan, transfer to a warm plate, cover and leave to rest for 2 minutes, then cut into thin strips.
Meanwhile, warm the flatbreads or naan breads.
Build each flatbread starting with a spoonful of the pea guacamole. Arrange the lamb strips over the guacamole and add the remaining garnish.
Serve immediately.
Tips:
If preferred, substitute the lamb leg steaks with stir-fry lamb strips instead.
Additional Recipe Information:
Nutritionals based on lamb leg steaks, trimmed of fat
Recipes you may also like