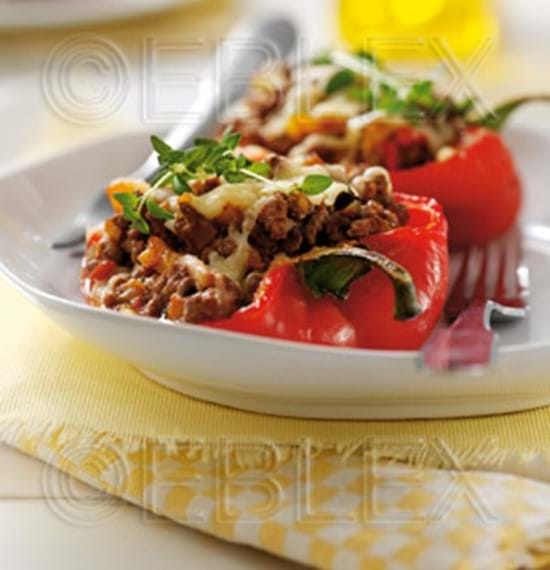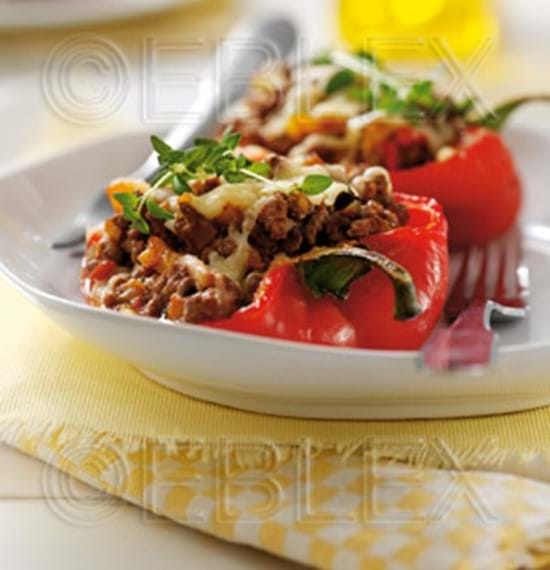 Beef Stuffed Peppers
This is a great recipe served as a starter.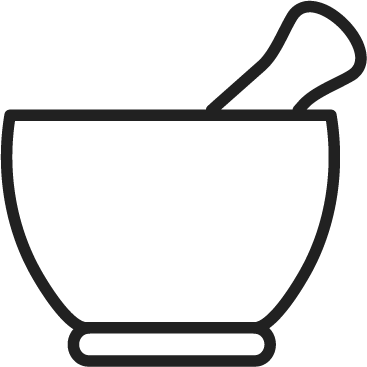 prep time
15 mins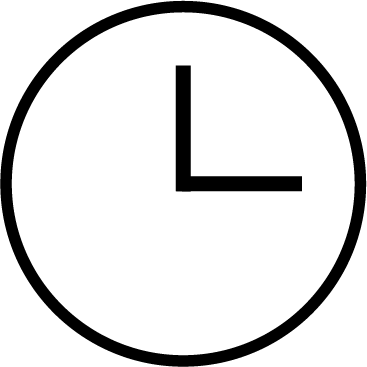 cook time
40 minutes serves
6 people
Energy

174kcal

Fat

7.4g

Saturates

2.7g

Carbs

9.8g

Sugars

8.1g

Fibre

3.4g

Protein

17.6g

Salt

1g
Ingredients
375g/12oz lean beef mince

3 large red peppers

15ml/1tbsp olive oil

½ small onion, peeled and finely chopped

2 garlic cloves, peeled and finely chopped

1 celery stick, finely chopped

250g/9oz antipasti prepared roasted vegetables, roughly chopped

200ml/7floz tomato passata

15ml/1tbsp freshly chopped oregano or 5ml/1tsp dried oregano

Salt and freshly milled black pepper

50g/2oz grated reduced fat cheese

Fresh thyme sprigs, to garnish
Method
Preheat the oven to Gas mark 6, 200°C, 400°F.
Cut the peppers in half lengthwise and scoop out the seeds and membrane. Place on a baking tray, drizzle with the oil and roast for 15-20 minutes.
Meanwhile, heat a large non-stick frying pan and dry fry the mince with the onion and garlic for 3-4 minutes, until the mince is brown, breaking up any lumps with the back of a spoon.
Drain any excess meat juices from the pan and transfer to a large bowl. Add the roasted vegetables, passata, celery, oregano and seasoning.
Remove the peppers, add the filling, cover with foil and continue to cook for a further 10 minutes.
Sprinkle over the cheese and return to the oven for a further 5 minutes or until the cheese melts.
Garnish with the thyme leaves and serve immediately.
Tips:
If preferred use grated mozzarella cheese instead.
Recipes you may also like