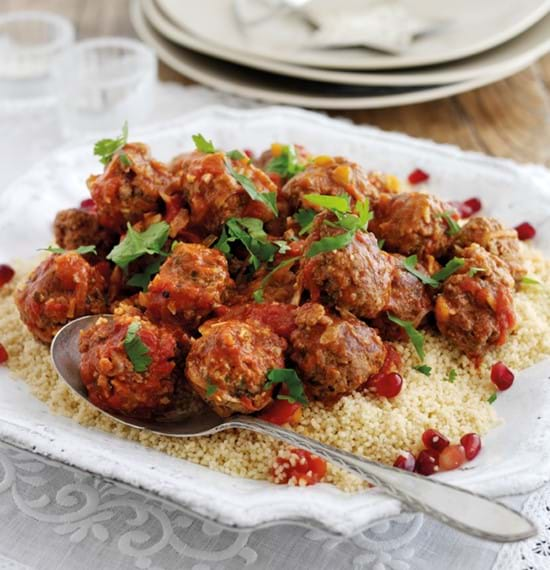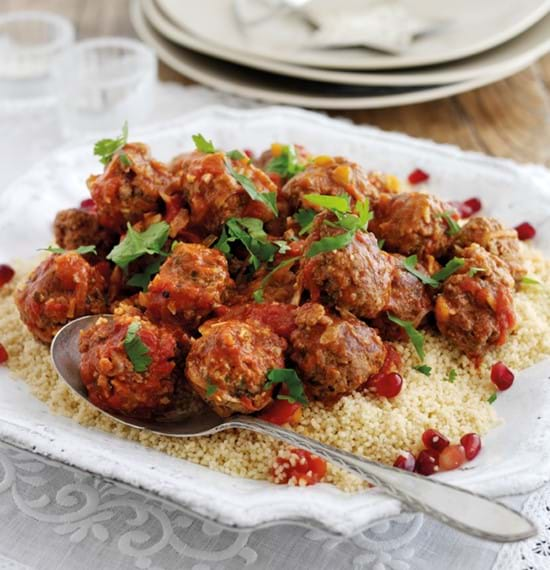 Lamb Meatball Tagine
A tagine recipe using lamb mince, spices, apricots, onions, garlic, cinnamon, chopped tomatoes, lamb stock, freshly chopped coriander and honey.  The tagine is a hit with younger palates and great served with steamed couscous, rice or even pasta!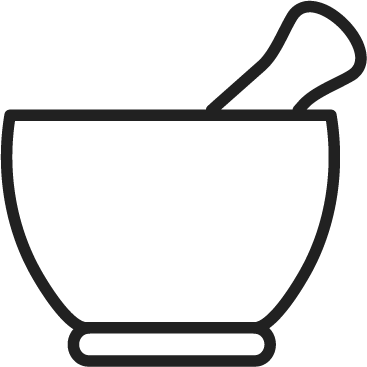 prep time
25 mins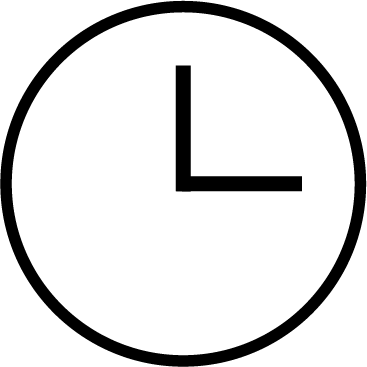 cook time
30 minutes serves
4 people
Energy(KJ)

1014

Energy(Kcal)

243

Fat(g)

12.3000001907349

Saturates(g)

5.09999990463257

Carbohydrate(g)

11.5

Sugars(g)

10.1000003814697

Fibre(g)

3.79999995231628

Protein(g)

22.7000007629395

Salt(g)

0.899999976158142
Ingredients
450g/1lb lean lamb mince (10% fat)

Salt and freshly milled black pepper

5ml/1tsp ground ginger

5ml/1tsp ground cumin

30ml/2tbsp freshly chopped flat-leaf parsley

3-4 dried apricots, finely chopped

1 small onion, peeled and grated

2 garlic cloves, peeled and finely chopped or crushed

5ml/1tsp oil

1 cinnamon stick, halved

1 x 400g can chopped tomatoes

200ml/7fl oz good, hot lamb stock

5ml/1tsp runny honey

30ml/2tbsp freshly chopped coriander, to garnish

Pomegranate seeds, to garnish (optional)
Method
Put the lamb in a large bowl.  Season and add the spices, parsley, apricots and half the onion and garlic.  Mix well.
Using slightly damp hands shape the mince mixture into 16 walnut-sized balls.
Heat the oil in a large non-stick pan with a lid and cook the remaining onion and garlic for 3-4 minutes or until soft.  Add the cinnamon stick, chopped tomatoes stock and honey.
Bring to the boil and cook for 5 minutes.  Add the meatballs to the sauce, reduce the heat and simmer for 20-25 minutes until the meatballs are cooked through. 
Remove the cinnamon stick from the sauce, garnish with the fresh coriander and serve with steamed couscous or rice, pomegranate seeds and a green salad.
Tips:
This recipe works well with beef mince too.
Recipes you may also like