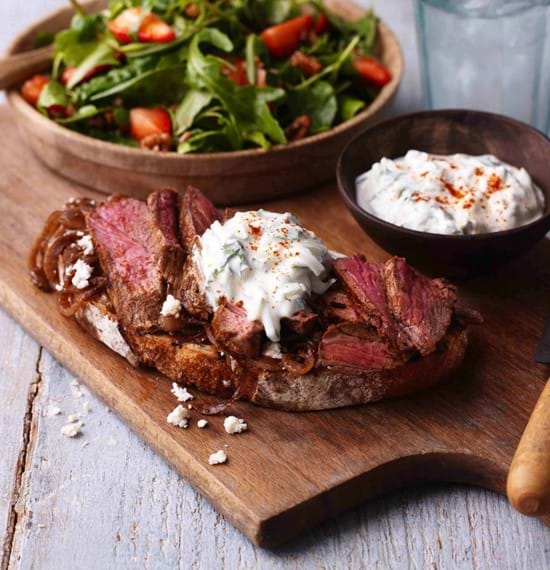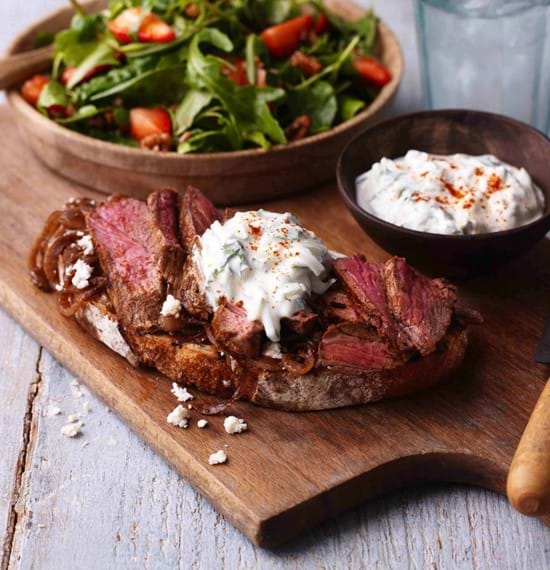 Moroccan Spiced Open Lamb Steak Sandwich
A sliced lamb leg steak sandwich marinated in Morrocan spices and served on crusty sourdough bread with caramelised onions, Feta and a Strawberry and Pecan Salad. Recipe supplied by Talk Becky Talk in association with Simply Beef and Lamb. To see a video of this recipe click here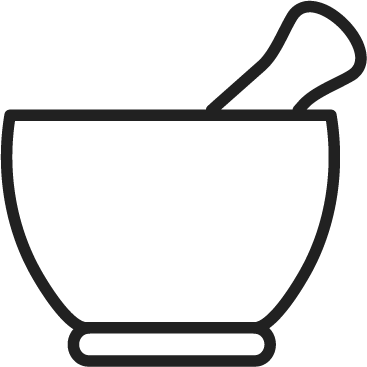 prep time
30 mins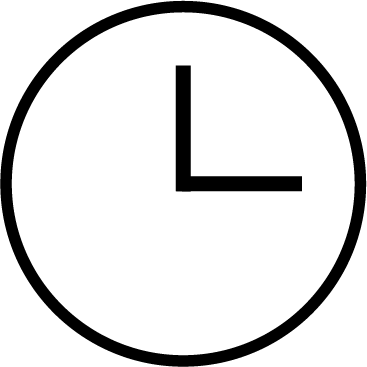 cook time
40 minutes serves
4 people
Ingredients
4 boneless lamb leg steaks- approximately 150g each

For the marinade:

2 cloves garlic, chopped

2 teaspoons ras el hanout (Moroccan spices)

½ teaspoon chilli powder

Zest and juice of 1 lemon

Splash rapeseed oil

Sea salt (just before cooking)

For the caramelised onions:

a little rapeseed oil

2 large onions, peeled and sliced

2 tablespoons brown sugar

2 tablespoons balsamic vinegar

For the yogurt:

1 x 200g tub Greek yogurt

1/3 rd cucumber, sliced into thin rounds and then sliced again into strips

Zest and juice of ½ lemon

½ teaspoon white sugar

Large bunch of mint leaves- chopped

Pinch of smoked paprika (optional)

100g Feta cheese, crumbled

For the salad:

1 bag fresh spinach, watercress & rocket

150g fresh strawberries, hulled and quartered

125g pecan nuts, roughly chopped

2 tablespoons balsamic vinegar

2 tablespoons honey

3 tablespoons rapeseed oil

Handful fresh mint, torn

For the open burger:

4 slices sour dough bread sliced approx. 1cm thick

Splash rapeseed oil
Method
Combine ingredients for the marinade, cover and leave lamb for minimum 8 hours or overnight in the fridge.

For the caramelised onions (this can be done in advance) fry onions in a little oil on a low-medium heat and cook slowly for 20 minutes. When onions are softened and golden add the sugar and balsamic and cook for a further 10 minutes until sticky. Season to taste. If prepared in advance- warm when needed.

For the yogurt, combine all ingredients except smoked paprika in a bowl, cover and leave refrigerated until needed.

For the salad, combine the spinach, watercress, rocket, strawberries and pecans in a large bowl. Whisk the vinegar and honey in a bowl and gradually add the rapeseed oil. Add the dressing just before serving and season with salt and pepper. Garnish with fresh mint leaves.

To cook lamb, remove from the fridge 20 minutes before cooking. Season lamb steaks and barbecue for 6-8 minutes on each side, leave to rest on a warm plate for 5 minutes.

Whist the lamb is cooking make the open burger; drizzle rapeseed oil over sour dough bread slices and toast both sides on the barbecue on a hot griddle pan.

Top the bread slices with Feta, warm caramelised onions, then top attractively with sliced lamb. Just before serving, spoon some mint and cucumber yogurt over then top with a sprinkle of smoked paprika (optional).

Serve with served with strawberry, spinach, mint and pecan salad.
Recipes you may also like