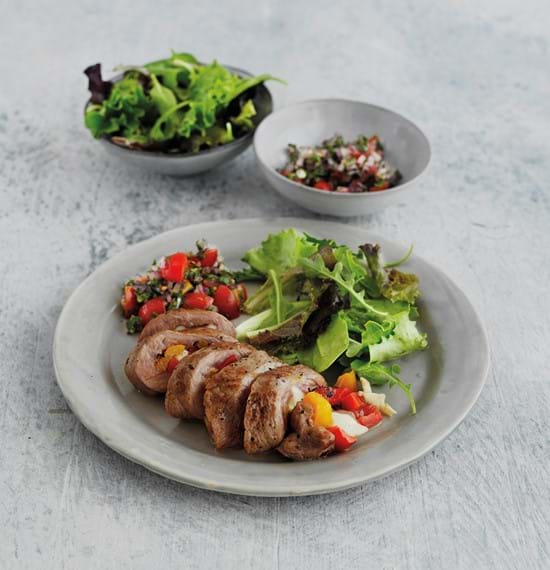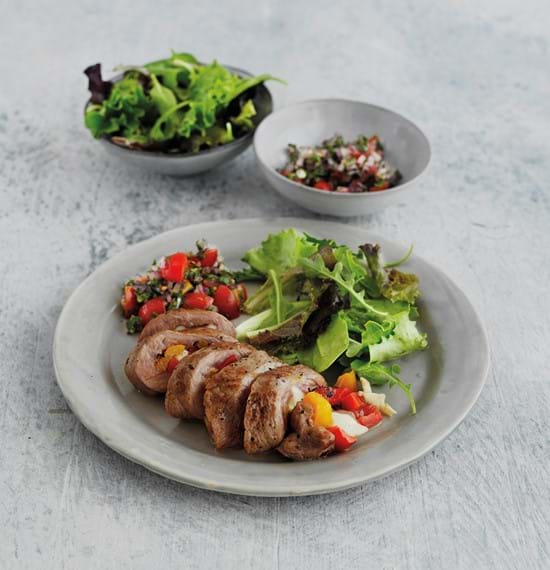 Lamb Pockets with Red Onion and Mint Salsa
Thin cut lamb steaks wrapped in cheese and grilled peppers, served with a red onion, mint and tomato salsa - a special recipe and ready in under 30 minutes.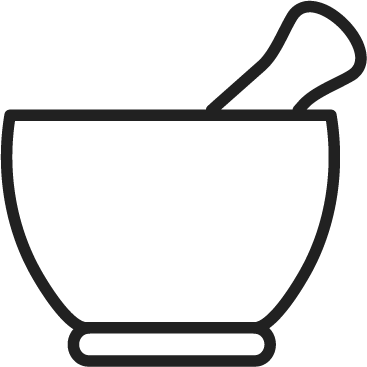 prep time
15 mins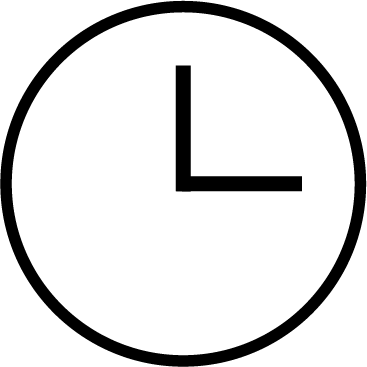 cook time
15 minutes serves
4 people
Ingredients
4 thin cut lamb steaks

1 teaspoon prepared Italian seasoning

75g mozzarella cheese, finely sliced

½ x 285g char grilled peppers, drained, oil reserved and sliced

For the Red Onion, Mint and Tomato Salsa:

1 small red onion, peeled and finely chopped

Large bunch freshly chopped mint

50g cherry or plum tomatoes, chopped

Juice of ½ lemon

1 tablespoon reserved oil from the peppers
Method
Place each steak on a chopping board and cover with a layer of cling film. Using a rolling pin or saucepan bash each steak until 1cm thin.Brush the lamb with the reserved oil from the peppers, season and dust with the Italian seasoning on both sides.
Divide the mozzarella and char-grilled peppers between the lamb steaks. Gently fold in half. Secure with a cocktail stick if necessary. Preheat the oven at 190°C, Gas Mark 5,
Heat a non-stick ovenproof griddle pan until hot and brown the steaks for 2-3 minutes all over, turning occasionally. Press down firmly. Transfer the pan to the oven and cook for a further 3-4 minutes.
Meanwhile, in a small bowl combine the salsa ingredients together and season to taste.
Slice the steaks and serve with a green salad.
Recipes you may also like