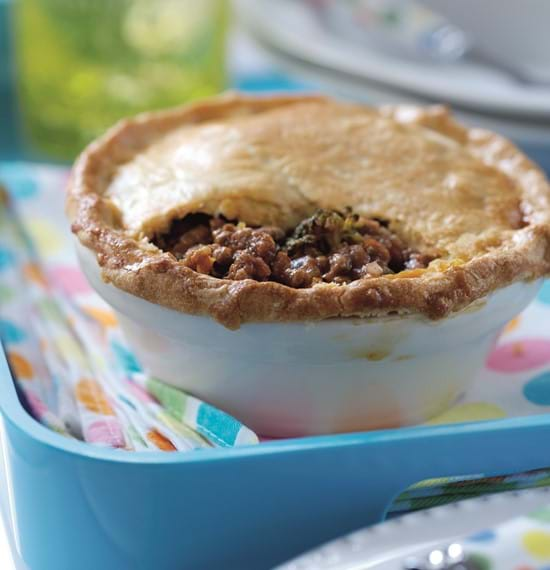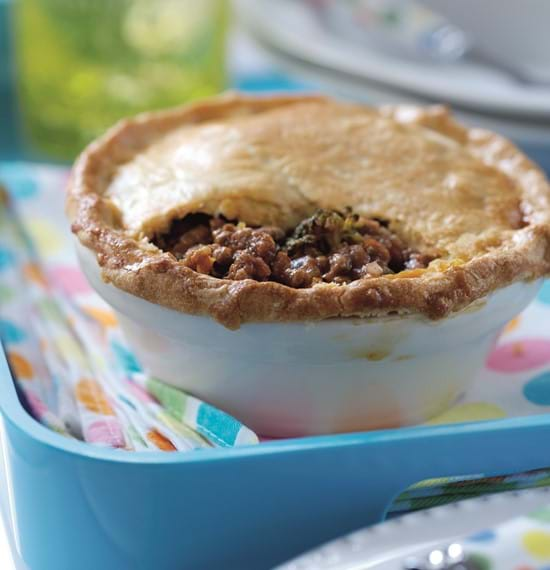 Mini Pot Pies
A great pie dish for children featuring beef mince, broccoli, peas, shop bought short crust pasty and a vegetable sauce made with five vegetables that they will never know are there!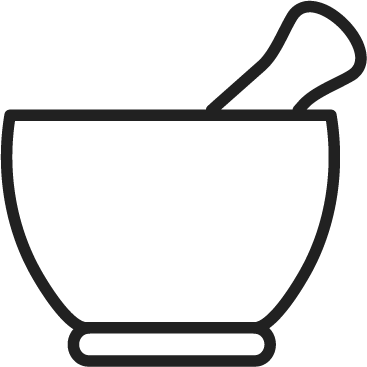 prep time
15 mins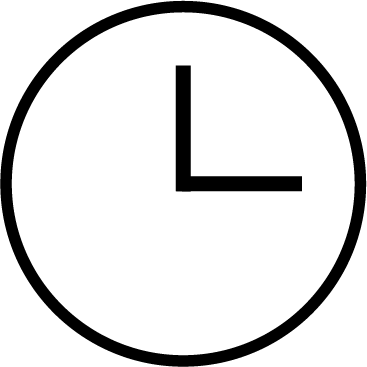 cook time
35 minutes serves
6 people
Ingredients
375g lean beef mince

1 medium onion, peeled and finely chopped

100g broccoli, cut into small florets or peas

500g prepared short crust pastry

50g grated Cheddar cheese

1 egg, lightly beaten

For the vegetable laden tomato sauce:

1 tablespoon light olive oil

1 medium onion, peeled and finely chopped

1 large carrot, peeled and grated

1 large courgette, grated

100g butternut squash, peeled and roughly chopped

75g button mushrooms, sliced

2 x 400g cans chopped tomatoes with herbs

2 tablespoons tomato purée

1-2 tablespooons light brown sugar

1 teaspoon ground cinnamon

1 bay leaf

2 tablespoons freshly chopped basil
Method
Preheat the oven to 200°C, 180°C Fan, Gas Mark 6.
Heat a large non-stick pan and dry fry the mince and onions for 3-4 minutes, or until brown, breaking up any lumps with the back of a wooden spoon. Season if required.
Add the tomato sauce, bring to the boil, reduce the heat and simmer for about 10 minutes. Remove from the heat, add the broccoli florets and cool slightly.
On a lightly floured board cut 6 x 12cm rounds for the pie lids.
Spoon the filling into 6 x 10cm small round ovenproof dishes and top with the cheese. Brush the edges of the dishes with a little water and place the lids on top, pressing to seal the edges of the pastry. Brush the tops with the egg and make a few holes on the top with a fork.
Bake for 20 minutes or until the pastry is golden.
Serve with creamy mashed potatoes.
For the Vegetable Laden Tomato Sauce:
Heat the oil in a large non-stick pan and cook the onion for 3-4 minutes until soft.
Add the carrot, courgette, squash and mushrooms. Cook for a further 3-4 minutes, stirring occasionally.
Add the tomatoes, tomato purée, sugar, cinnamon, bay leaf and basil. Bring to the boil, reduce the heat, cover and simmer for 35-40 minutes. Remove the bay leaf and season if required.
Transfer to a blender and blitz together until fairly smooth and use as a tomato sauce base.
Tips:
The sauce is suitable for freezing; simply pour into a freezable plastic container or in ice cube trays, label freeze for up to 3 months. The sauce is great as a base for Bolognese or chilli sauces.
Recipes you may also like