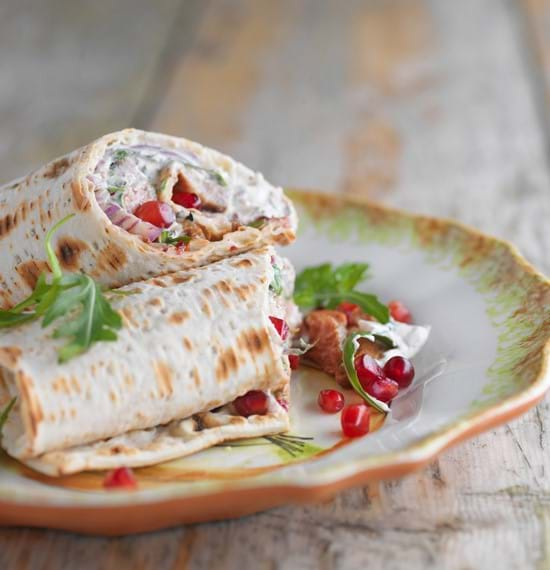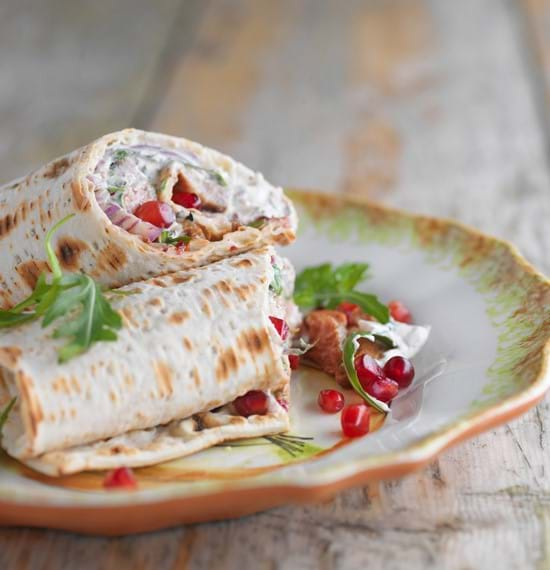 Persian Spiced Lamb Neck Fillets with Pomegranate, Spiced Yogurt and Tortilla Wraps -Recipe courtesy of Sabrina Ghayour
These spiced wraps are made with boneless lamb neck fillets marinated in ras-el-hanout (a popular Middle Eastern spice mix) and olive oil, pan-fried, thinly sliced and served in a tortilla wrap with  sliced red onions, rocket leaves, fresh pomegranate seeds, and then a drizzle of good pomegranate molasses. This is then finished with a large dollop of spiced yogurt made with plain yogurt, ground coriander, sumac (Middle Eastern spice), garlic oil and freshly chopped mint and coriander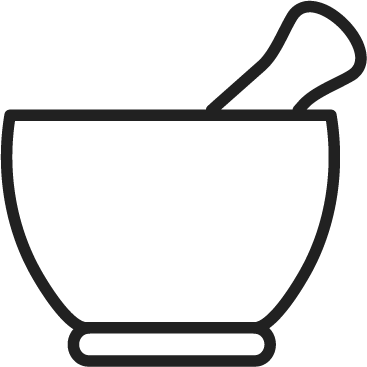 prep time
20 mins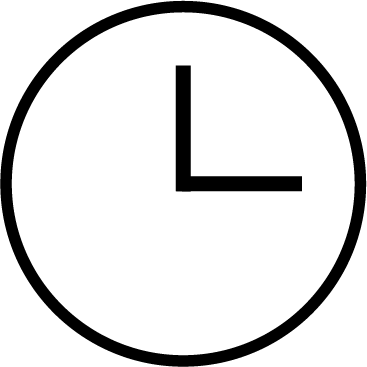 cook time
15 minutes serves
6 people
Ingredients
800g lamb neck fillets (trimmed of excess fat around the fillet)

1 red onion, thinly sliced into half moons

50g rocket leaves

100g fresh pomegranate seeds

4-6 flour tortilla wraps

Sea salt

Pomegranate molasses, for drizzling on to the lamb

For the Marinade

4 heaped teaspoons of ras el hanout spice mix

Olive oil, enough to make a paste to marinate the lamb with (about 6 tablespoons)

For the Yogurt

300ml Greek yogurt

2 heaped teaspoons of ground coriander

2 heaped teaspoons of sumac

1 small bunch of fresh coriander, finely chopped

1 small bunch of fresh mint, finely chopped

Generous seasoning of salt and black pepper

Good drizzle of garlic oil (or olive oil if you prefer)
Method
Place the lamb neck fillets into a flat-base shallow dish and make a paste with the marinade then rub over the fillets, using your hands until well coated.  Cover the dish with cling film and allow to marinate for a minimum of one hour.
For the sauce, mix the yoghurt, ground coriander, sumac and fresh herbs, salt and pepper together in a bowl and add in a good drizzle (about 2 tablespoons) of garlic oil to slacken the mixture whilst giving it a great flavour (you can of course use plain olive oil if preferred). Mix thoroughly to ensure the oil is combined with the yoghurt mixture, then set aside.
Preheat a large frying pan over a medium flame. Once the lamb is done marinating, fry the fillets turning the lamb neck fillets every few minutes to ensure they are being evenly cooked. This should take approximately 10 minutes, depending on the thickness of the fillet. Each side should be slightly blackened (this will happen because of the spice paste).
The meat can be finished in the oven to ensure it cooks a little further without burning but most importantly, the meat does need to be cooked until pink as the fat inside will not melt sufficiently. So with this cut, pink is what you are looking to achieve. If you squeeze the fillet and it isn't firm and has a lot of give/bounce, then you need to cook it for a few more minutes on each side, until it is slightly more firm.
Once done, allow the meat to rest for 6-8 minutes covered with foil. Then remove foil and using a sharp knife, thinly slice the lamb and arrange on a platter. Build the wraps with sliced onion, rocket, pomegranate seeds and pomegranate molasses.
Recipes you may also like