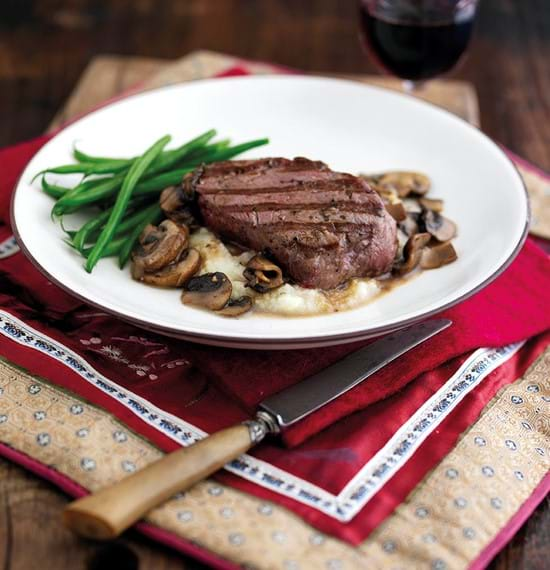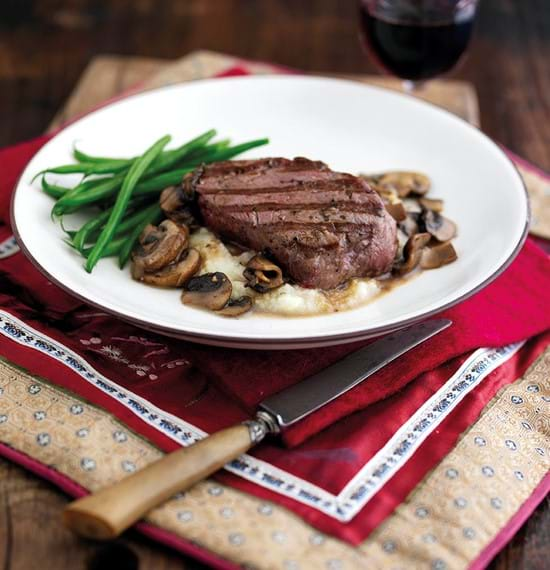 Steaks with Mushroom Sauce and Cauliflower Puree
A great steak dish that is perfect for Valentines day, or to dine with someone on a special occasion.  A variety of steak cuts can be use for this recipe (fillet,sirloin, rump, rib-eye or flat iron) and the cauliflower purée and mushroom sauce is to die for!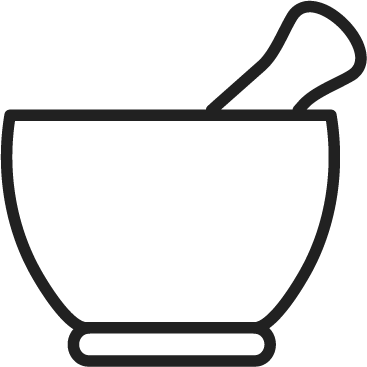 prep time
20 mins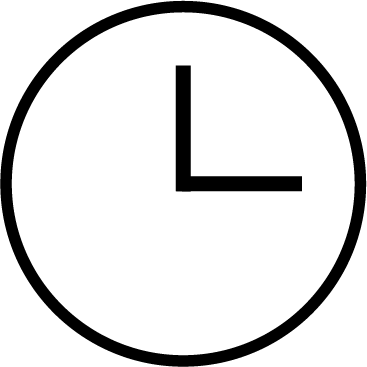 cook time
10 minutes serves
2 people
Based on a fillet steak 2-3cm thick
To Cook Rare: 3-4 minutes on each side
To Cook Medium: 4-5 minutes on each side
To Cook Well Done: 6-7 minutes on each side
Energy

551kcal

Fat

36.4g

Saturates

15.6g

Carbs

9.8g

Sugars

7.7g

Fibre

3.7g

Protein

35g

Salt

2.7g
Ingredients
2 lean fillet steaks

1 tablespoon rapeseed or olive oil

For the Cauliflower Purée:

1 small cauliflower, cut into small florets

1 vegetable stock cube, crumbled

25g prepared garlic butter, melted

For the Mushroom Sauce:

25g prepared garlic butter

225g chestnut mushrooms, cleaned and sliced

100ml sweet sherry or good, hot beef stock

2 tablespoons freshly chopped flat-leaf parsley, optional
Method
To prepare the cauliflower purée; cook the cauliflower in a large pan of boiling water with the crumbed vegetable stock cube for 15 minutes, or until tender.  Transfer to a food processor or blender, add the melted garlic butter and purée for 1-2 minutes, or until the mixture is smooth. Season if required.
For the mushroom sauce; melt the remaining butter in a non-stick medium frying pan over a moderate heat and gently cook mushrooms for 2-3 minutes, stirring occasionally.  Add the sherry and cook for 3-4 minutes or until the sauce is reduced and syrupy.
Heat a non-stick griddle pan over a moderate heat.
Put the steaks on a clean chopping board, season and brush with the oil on both sides.
Cook the steaks according to your preference; transfer to a warm plate and set aside to rest for a few minutes.
Reheat the purée, if required and place the steaks on top, spoon over the mushroom sauce, garnish with the parsley, if used and serve with seasonal vegetables.
Tips:
If you prefer a beefier steak flavour the recipe works well with sirloin, rump or rib-eye steaks too. Follow the cooking times below: Based on a 2cm thick steak: Rare: 2½ minutes on each side Medium: 4 minutes on each side Well done: 6 minutes on each side For flat iron steaks cook for: Rare -2 minutes on each side Medium Rare - 3-4 minutes on each side Medium -5-7 minutes on each side For best results with flat iron, cover with foil and rest for 5-10 minutes before serving.
Recipes you may also like