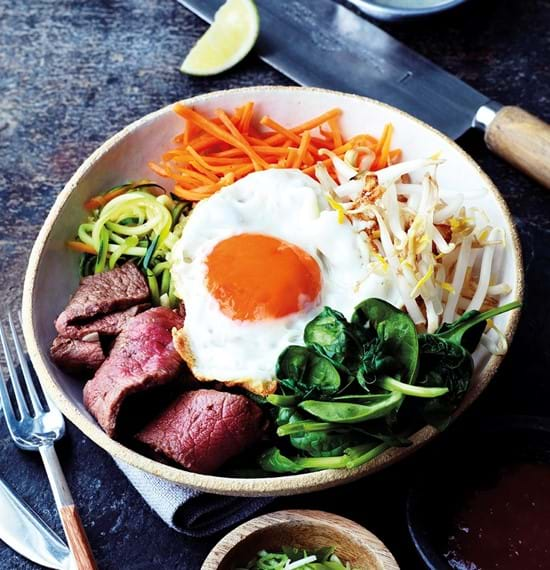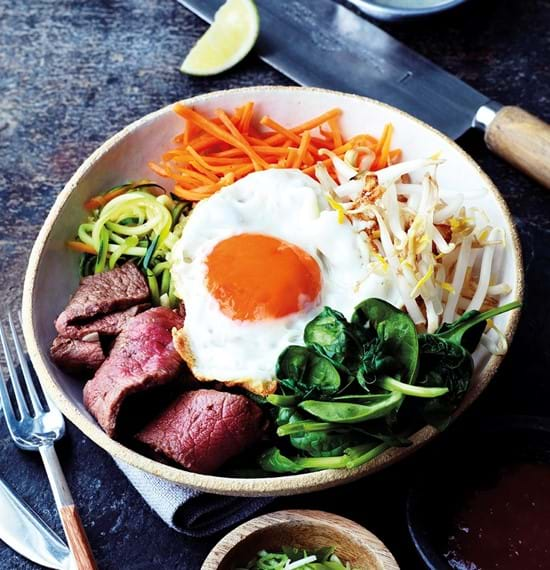 Korean Beef Bibimbap
This is one of the most well known Korean dishes.  It means mixed rice with assorted vegetables and is also based on the dish or bowl it is served in.  For our version we use flat-iron steaks.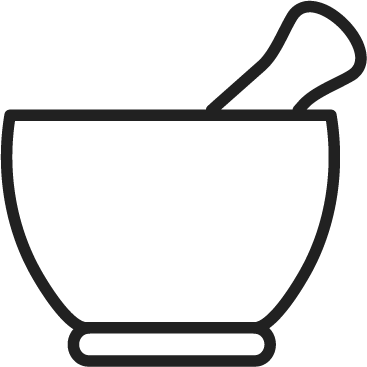 prep time
15 mins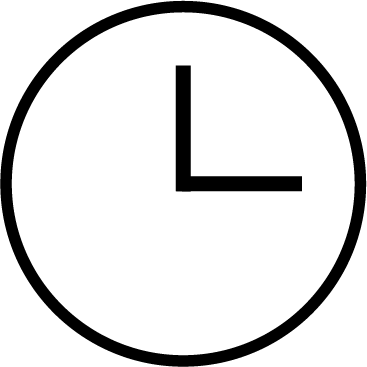 cook time
20 minutes serves
4 people
Ingredients
200g flat-iron or rump steak, thinly sliced

400g short grain or sushi rice, rinsed

1 tablespoon sesame oil

1 carrot, peeled and cut into julienne strips

2 garlic cloves, peeled and finely chopped or crushed

1 courgette, cut into julienne strips

2 tablespoons soy sauce

1 x 100g pack baby spinach leaves

100g beansprouts, rinsed

4 eggs

To serve:

Thinly sliced spring onions

Sesame seeds

Korean chilli (Gochujang) paste or chilli paste of your choice
Method
Bring 1L water to boil in a large saucepan, reduce the heat, add the rice, cover and cook over a low heat for 15 minutes until cooked.

Meanwhile, heat 1 teaspoon of the oil in a large non-stick frying pan or wok.  Add the carrot, half the garlic and stir fry for 1 minute.  Season, set side and keep warm.

Heat 1 teaspoon of the oil in the same pan, add the courgettes and the remaining garlic.  Stir-fry for a few minutes, season, set side and keep warm.

Heat the remaining oil in the same pan and stir-fry the beef for a few minutes.  Remove from the heat and add the soy sauce.

Wilt the spinach in the same pan, remove from the heat and drizzle with a little sesame oil.

Divide the rice among bowls and arrange carrots, courgettes, beef, spinach and beansprouts.  Top with a fried egg.

Garnish with spring onions and sesame seeds.  Serve with the chilli paste.
Tips:
Stir through 2 teaspoons of the Korean paste at the end of cooking the beef. At the supermarket look for pudding rice – that's also short grain rice.
Recipes you may also like