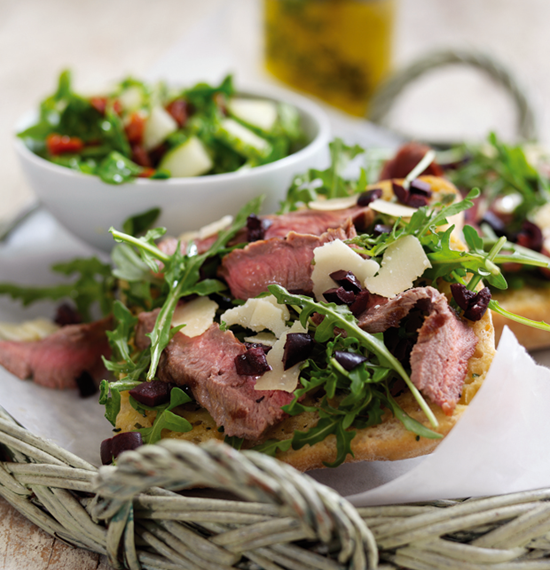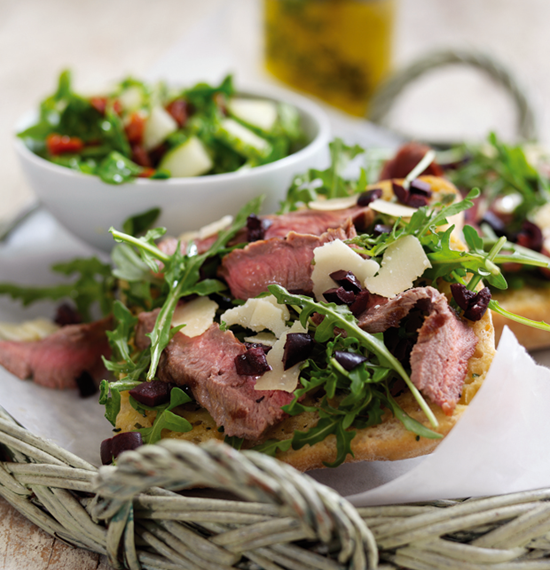 Beef and Parmesan Pizza with Herb Oil
Ideal light lunch or snack. Beef rump sirloin or rump strips on a ciabatta base with sundried tomato dressing.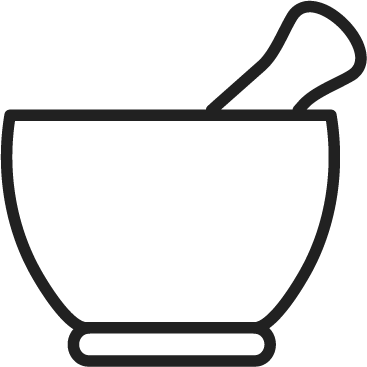 prep time
15 mins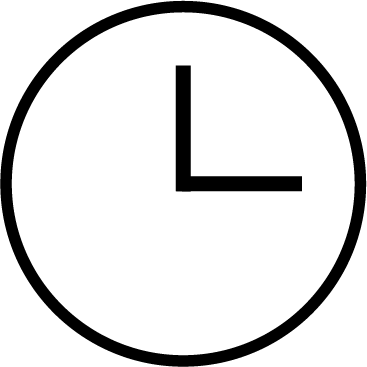 cook time
12 minutes serves
4 people
Ingredients
225g lean sirloin or rump steak

1 x part-baked ciabatta bread, cut in half lengthways

25g prepared garlic butter

4 tablespoons prepared basil oil

1 small bag rocket leaves

50g fresh Parmesan shavings

50g pitted black olives, roughly chopped

1 x 150g bag green salad leaves

½ large cucumber, cubed

6 tablespoons extra virgin olive oil

2 tablespoons white wine or sherry vinegar

2 sun-dried tomatoes in oil, drained and finely chopped or 1 tablespoon sun-dried tomato paste
Method
Preheat the oven to 220°C, 200°C Fan, Gas mark 7.
Place the ciabatta bread on a large non-stick tray, lightly prick with a fork, brush with the garlic butter and bake according to the packet instructions until golden brown.
To prepare the salad and dressing, place all the salad ingredients in a large bowl. Put the dressing ingredients into a screw-topped jar and shake until combined. Season and pour over the salad.
Place the beef in a bowl and coat with 3 tablespoons of the basil oil and seasoning. Cook on a hot non-stick griddle pan on the hob or on a prepared barbecue according to your preference. Transfer to a plate and leave to rest for 2 minutes. Thinly slice.
Arrange the rocket, beef, Parmesan and olives over the Ciabatta and drizzle with the remaining basil oil.
Serve with the salad.
Tips:
This recipe works well with leftover cooked roast beef too. If you prefer to make your own basil oil whizz together 4 tablespoons olive oil with 6 fresh basil leaves in a blender or food processor until smooth and use as required.
Recipes you may also like