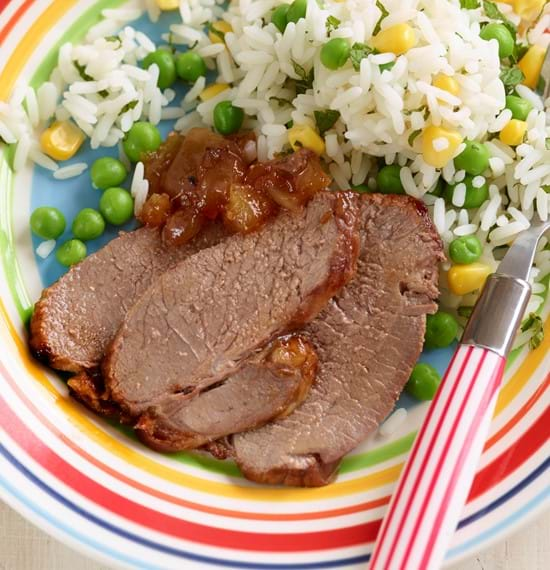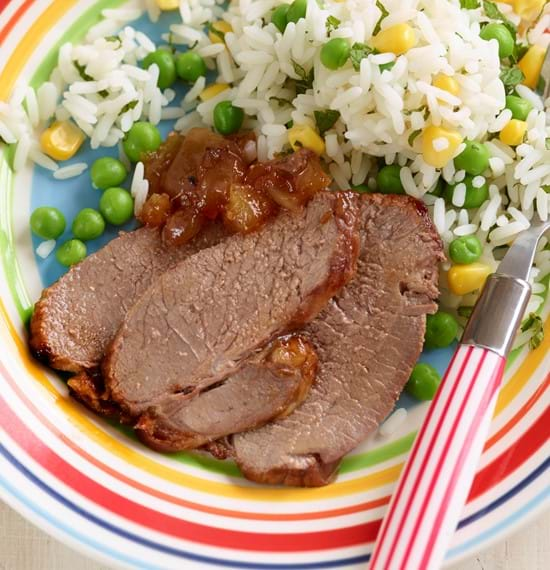 Lamb Mini Roast with Mango Chutney (Kid's version)
Do cook the lamb mini roast recipe for the children in your family as it's easy and cooks in under 40 minutes.  It's boneless and is great for midweek meals.  It will also serve more than three if you cook for just the children.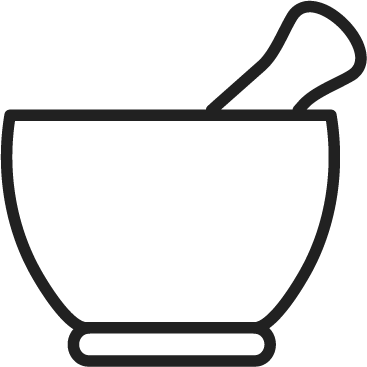 prep time
10 mins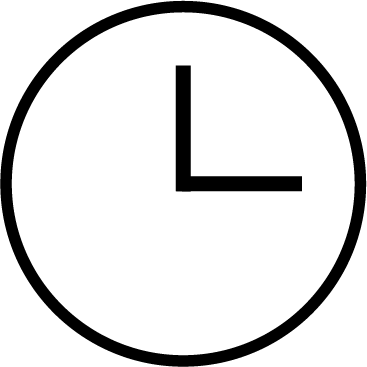 cook time
40 minutes serves
3 people
Ingredients
1 x 400-450g lean lamb mini roast

Pinch salt

Freshly milled black pepper

1-2 tablespoons prepared mango chutney of your choice

For the Rice:

375g packet dried, chilled, frozen rice or plain rice of your choice

1 tablespoon freshly chopped mint, optional

For the Vegetables:

175g fresh, frozen or canned peas

100g fresh, frozen or canned sweet corn
Method
Preheat the oven to 190°C, 170°C Fan, Gas Mark 5.
Place the joint on a chopping board and make several slits over the surface and season.  Transfer to a roasting rack in a medium roasting tin and roast for 25-30 minutes.
Remove the joint from the oven, brush with the mango chutney and return to the oven to cook for a further 10 minutes.
Meanwhile, cook the rice according to the packet instructions.  If using plain dried rice cook according to the packet instructions and add a vegetable stock cube to the boiling water.  During the last 5 minutes of the cooking time add the vegetables to the rice.  Stir gently.
Remove from the oven, transfer to a warm plate, cover with foil and leave to  rest for 5-10 minutes, 20 minutes if time allows.
Carve the lamb and serve with the vegetable rice and cucumber.
Tips:
If preferred opt for vegetables that your family enjoy. Redcurrant jelly works well too.
Recipes you may also like