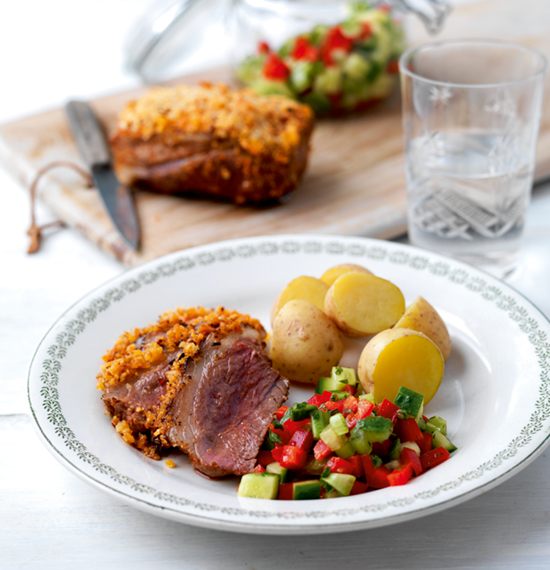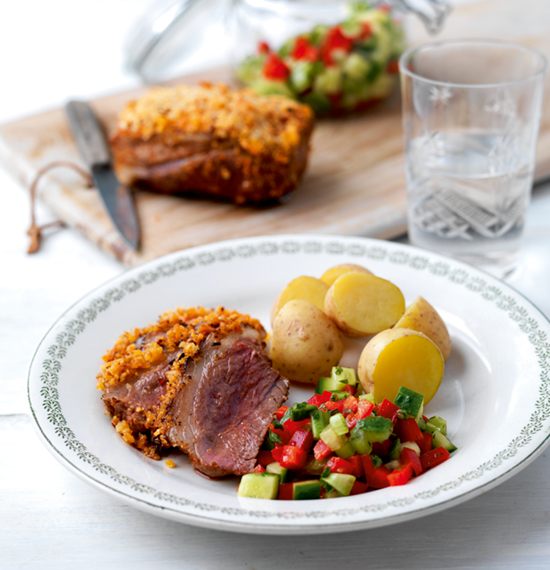 Paprika and Parmesan Lamb with Spring Salsa
A great dinner party dish featuring mini lamb rump joint coated in a fresh breadcrumb mixture made with smoked paprika, cheese, dried chilli flakes and mustard. It's ready in under 20 minutes too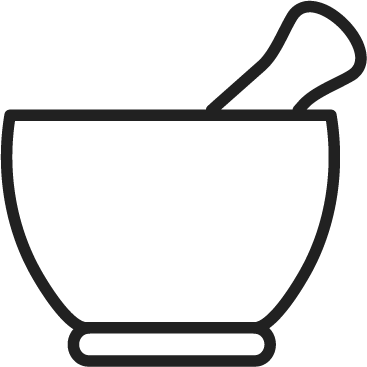 prep time
15 mins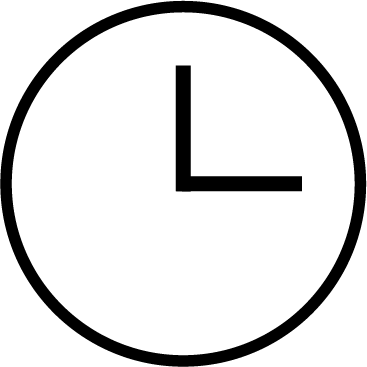 cook time
20 minutes serves
4 people
Ingredients
2 lamb rump mini joints (weighing approx. 225-250g) or 4 boneless leg steaks

Salt and freshly milled black pepper

10ml/2tsp smoked paprika

50g/2oz butter

15ml/1tbsp oil

50g/2oz fresh breadcrumbs (not dried)

5ml/1tsp dried chilli flakes

15ml/1tbsp Parmesan or hard ewe's milk cheese such as Pecorino, grated

5-10ml/1-2tsp Dijon mustard

For the spring salsa

:¼ cucumber, peeled and diced

1 small red pepper, cored, deseeded and finely chopped

2 spring onions, finely chopped

1 stick celery, finely chopped

30ml/2tbsp freshly chopped flat-leaf parsley

30-45ml/2-3tbsp extra virgin rapeseed or olive oil

10ml/2tsp lemon juice
Method
Preheat the oven to Gas mark 7, 220°C, 425°F.
On a large plate, mix the salt, pepper and smoked paprika. Dust the lamb on both sides with the seasoning mix.
Melt half the butter with the oil in a non-stick frying pan and sear the lamb for 2 minutes, turning once. Transfer to a plate and leave to cool slightly. Melt the remaining butter and set aside.
On a large plate mix together the breadcrumbs, chilli flakes and cheese.
Brush the mustard over the top of each lamb portion, then top with the breadcrumb mixture, pressing down firmly. Brush the melted butter over the breadcrumbs.
Transfer to a small roasting tray and open roast for 5-10 minutes (for medium) until the breadcrumbs are crispy. If using the mini joints leave to rest for 5-10 minutes.
Meanwhile, prepare the spring salsa; in a medium-sized bowl mix all the salsa ingredients together. Season.
Serve the lamb (sliced if using mini joints) with new potatoes and the spring salsa.
Recipes you may also like