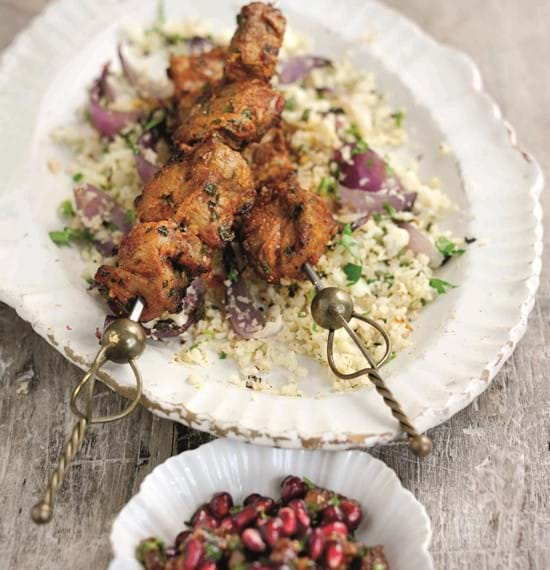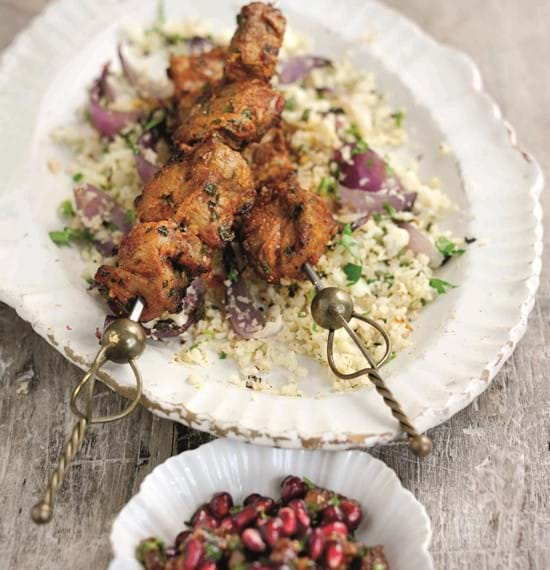 Lamb Skewers with Fig Relish and Cauliflower Couscous
This Middle-Eastern inspired lamb dish uses cubes of lamb neck fillet or shoulder and is marinated overnight with herbs and spices. The skewers are served with a fig relish made with dried figs, mint and pomegranate seeds and a serving of couscous made with cauliflower -  yes, cauliflower!  A great entertaining or celebratory dish.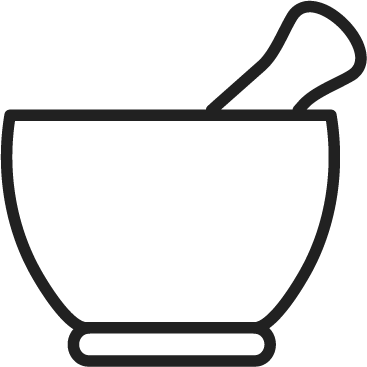 prep time
20 mins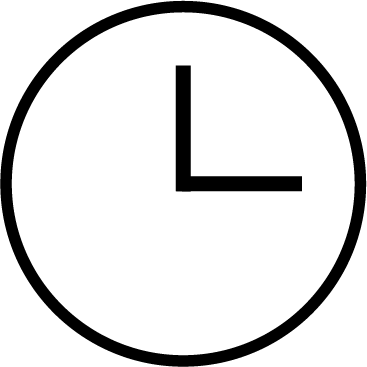 cook time
20 minutes serves
4 people
Ingredients
450g lamb neck fillets or shoulder, cut into 2.5cm cubes

1 small onion, peeled and finely chopped

2 tablespoons freshly chopped parsley

2 teaspoons freshly chopped coriander

1 garlic clove, peeled and finely chopped

2 teaspoons ground paprika

1 teaspoon ground cumin

1 tablespoon distilled or white wine vinegar

2 teaspoons rapeseed or olive oil

For the Fig Relish:

100g prepared pomegranate seeds

50g dried figs, finely chopped

1 small handful freshly chopped mint

1 teaspoon pomegranate molasses (available in the world food aisle of large supermarkets)

4 teaspoons rapeseed or olive oil

¼ teaspoon ground cumin

For the Cauliflower Couscous:

1 medium cauliflower, outer leaves removed (florets should weigh 350g and roughly chopped

2 tablespoons rapeseed or olive oil

1 small red onion, peeled and cut into small wedges

1 tablespoon fresh lemon juice

2 tablespoons freshly chopped parsley

2 tablespoons freshly chopped mint
Method
Put the lamb cubes in a large bowl and add all the onion, herbs, oil, vinegar and seasonings. Mix well, cover and refrigerate for 1 hour, or if time allows, overnight.
To prepare the fig relish; in a medium-sized bowl mix all the ingredients and set aside.
To prepare the cauliflower `couscous'; put the cauliflower florets in a food processor and `pulse' until the mixture resembles couscous or small grains.
Thread the lamb onto 4-6 metal or wooden skewers (previously soaked in water for 20 minutes). Cook under a preheated, moderate grill for 4-6 minutes on each side.
Meanwhile, prepare the couscous; heat the oil in a large non-stick pan over moderate heat. Add the onions and cook for 2-3 minutes. Add the cauliflower and cook for 6-8 minutes, or until the mixture turns golden brown.
Remove the pan from the heat and add the lemon juice, seasoning and herbs.
Spoon the cauliflower couscous onto a large plate or platter, position the skewers on top and serve with the fig relish.
Recipes you may also like